With the start of the 2023 school year, a few new teachers have joined the Cass family. Among them is Anastasia McGill, our new theater director and teacher. Last year, after our previous director, Christopher Agan, unfortunately switched schools, McGill stepped in to fill the spot. So far, she has taken a very ambitious approach to the position of director in her first month on the job. 
McGill has many changes she wants to make to the theater program.  The first change she wants to be made is to "get more kids involved, because the more kids you have, the more talent they bring to the table…just growing the program, and expanding it so that more kids are involved, and more kids have the opportunity to showcase all of those talents, and hopefully, in turn, expand throughout the community, so when people talk about class high school, 'Have you seen their theater department? It's amazing!'"
These ambitions may seem miniscule, but in just a few short weeks of McGill being the director, she has more than doubled the size of the club. "When I first came in—and this was confirmed by Mr. Agan and the [club] officers from last year—I was told that we've never had more than 15-20 kids. Ever. And so, to have almost 40 kids show up to our very first meeting, and then 44 kids who want to be involved with this production in some capacity has been utterly amazing." Many of the students share that sentiment. The club president, Evan Brophy, has high hopes for Small Actors, the fall semester's competition play. "I feel like this might be one of my favorite shows I've ever done, and that is saying a lot. I feel that not only my character, but also the other characters are cast really well," Brophy said.
Of course, with a new teacher comes many changes, including changes to the style of directing.  When asked about what he thought about these changes and McGill's experiences, Brophy said, "Obviously, the old theater teacher and Mrs. McGill have totally different thought processes and ways they want to direct. Our old theater teacher wasn't very tech heavy; he was more stage heavy, which is good, but Mrs. McGill is very tech heavy, not stage heavy, which I think will be very beneficial for the whole show."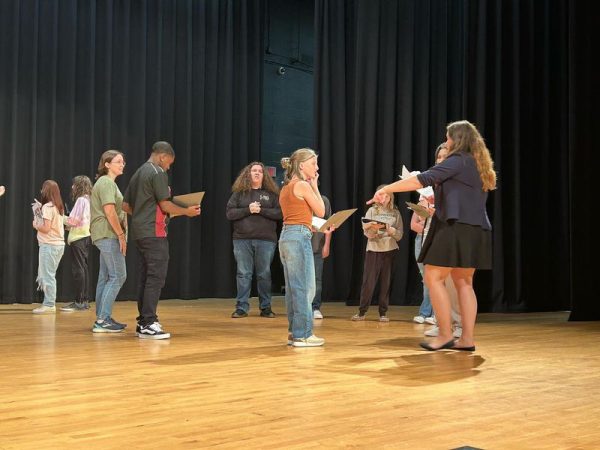 At end of last school year, when McGill was first hired, the students were able to meet her at their end-of-year induction ceremony. Thespian inductions are where new theater club members are officially declared part of the thespian society, which is essentially a national theater club. For both McGill and the students, inductions were very exciting. "As a former drama kid," McGill reminisces, "like [theater] was all I did. So, to come into a space where there were so many kids who were already so actively involved and passionate about what they do, I really enjoyed being able to share that passion with them." The students shared this sentiment and were also very excited to meet McGill for the first time. According to Brophy, "When I first met Mrs. McGill, I thought that she was very nice, and she definitely knows how to direct and direct well and is very serious about what she does. I'm very glad that she's here."
Obviously, McGill did not get hired without reason. Her very first directing experience was "in the middle of covid, so everything that we did was virtual, and it was a really weird situation to be in, when everyone's having to record their parts at home and then edit them all together." Fortunately, theaters around the country have been able to reopen and continue producing live performances, including Cass'. "Most of the shows I've chosen to direct tend to be comedies, because I feel like it's easier to make people laugh than it is to make them feel things. I'm really excited for this first show, where we get to tackle all those different emotions. I'm excited to have kids that I feel like can handle that and can put it on stage." McGill continues.
Without a doubt, McGill is incredibly devoted to this program and everything that her students do. This is made evident by her enthusiasm toward growing the program as well as making new students feel welcome. "Theater is very much my passion, it makes me so happy, every aspect of it. I'm a firm believer in there's a place here for everyone, we just need to find it." McGill states. She has already done this for so many students and helped them find the place where their talent shines best. "I really love being in the classroom and getting to watch students step out of that comfort zone and find where they belong and find that little family that they get to hold onto for the rest of their lives." 
Even just a month into the school year, McGill has already done so much for Cass's theater department and has already made a lasting impact on our school. She has already doubled the size of the theater department and given so many students the opportunity to shine.  Cast members of Smal Actors are confident that their performance will be one of the best yet. Their performance at competition will not only cement their place as amazing actors, but they will also show that McGill is serious and devoted about what she does. The future looks bright for McGill, and the theatre department is yet to blossom into its true potential.