Black History Fair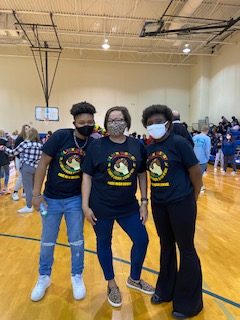 In honor of Black History Month, Cass High held its third annual Black History Fair. Thanks to Mrs. Fowler, head of the Black Student Union, and Mrs. Brennan, leader of the Student Leadership team, students celebrated black history and culture through student speakers, live jazz, an escape room, and informative booths. 
One of the exhibits used to give students an insight into Black History was a periodic table which consisted of names and birthdates of important black people in history and QR Codes leading to their biography. It was a great, quick, and easy way to further educate. Leadership students created an escape room named "Where's My Oscar?" Participants answered questions regarding black cinematic history to break the code and escape. The fair also contained live music and singing. "Speakers couldn't come in due to Covid, but the students really stepped up. I loved how it turned out and the kids loved it. Everyone was enjoying the live music and our talented singers!" said Mrs. Fowler.
Oshauna Finch, founder of the Black Student Union stated, "in most history classes, the history isn't brought to the depths it should." Black history seems, for the most part, to be talked about amongst the black community but if we are considered a diverse nation, black history should be talked about amongst everyone regardless of race or class. The Black History Fair is a great way to implement this idea because classes throughout the day of all diversity, races, and ages come down and get this insight into black history. Oshauna explains this about the Black History Fair, "It's important to have the fair because it is an opportunity for people to get a perspective they haven't had. People at this age really need this experience to help show what we go through just like what the diversity fair does for me. I'm able to learn more about Hispanics' culture and lives."
Cass High Senior, Alana Murdock, headed the "Privilege Walk." In this activity, students were asked to stand side by side in a straight line. Alana then began to ask some personal questions such as, "Do you have to worry about where your next meal comes from?" "Have you ever been stopped or questioned by the police only based on how you look?" If the answer was yes, students were to step forward. At the end of the activity, students looked around realizing how different many of their lives are from others. Alana ended the activity with a speech regarding white privilege and black people suffering from redlining.
"I learned a lot of history today. Alana's speech was very well said and a big eye-opener. She did a great job educating students all while letting us be involved," said Cass High Senior, Selma Sanchez.
Overall, the fair had a wealth of information, interactive activities, and delicious food that celebrated all of the richness of black history!