The Psychology Behind the Black Friday Craze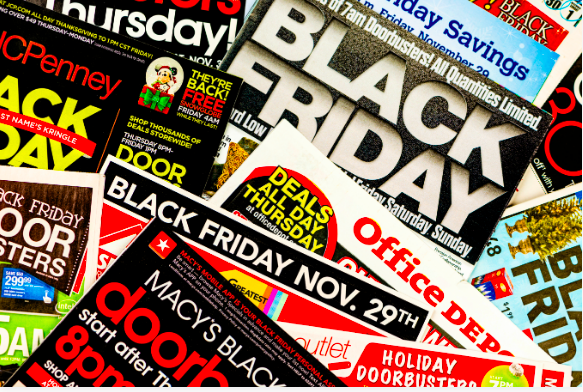 Hang on for a minute...we're trying to find some more stories you might like.
The term "Black Friday" was first used by retail marketers after World War II. The day was named "Black Friday" because it was the one day a year in which businesses would sell enough products to make a profit or operate in the black. However, it wasn't until the consumerism-crazed 1980s that it truly became a big deal nationally. As Black Friday became hyped as a day when stores were flooded with extra cheap prices and amazing discounts, something crazy arose. Retailers began opening earlier and earlier on the Friday morning after Thanksgiving, and crowds waiting outside grew bigger and bigger in antsy anticipation of the doorbuster deals lying inside.
Black Friday sales now launch on Thanksgiving Day itself, and the concept of "Christmas creep"—promotions as early as September and October—has significantly expanded the holiday shopping season. Sales-tracking sites like DealNews.com say that the vast majority of deals on Black Friday itself can be ordered online, negating any reason to hit the store. this feeds into the theory floated annually by retail analysts that Black Friday is dying, or is perhaps already irrelevant… except it's not. According to a Mintel survey, 43% of American holiday shoppers went shopping in a physical store on Black Friday in 2017. Even young, tech-savvy people with access to a computer chose to shop in a physical store. So, what's happening? Why don't they just stay home and chill, perhaps do a little no-stress online shopping where the deals are just as compelling? Part of the reason that Black Friday is a phenomenon and not about low prices. "They want to experience the excitement of the event firsthand," says DealNews.com's director of content marketing Lindsay Sakraida. The site polled people at Target to see if they were there for anything specific. The answer? Not really. "They just wanted to see what all the fuss was about," Sakraida says.
Beyond FOMO (fear of missing out), consumer psychologist Kit Yarrow explains that Black Friday is simply an ingrained tradition for families and friends. People typically have the day off work and need something to do with out-of-town visitors. They just Thanksgiving mostly indoors, eating too much food and watching too much TV. An outing at the mall is something toddlers, teenagers, and grandparents can get behind. "It's an element of instant gratification and satisfaction that comes with toughing it out for a deal," adds Sakraida. Overall, the craze for Black Friday is due to psychological reasons. Deals feel so good, limited sale times create a sense of urgency, getting a doorbuster can make one feel superior and validated, and buying something justifies the time committed to the craze. It's more about how Black Friday makes people feel that the actual deals and goods being purchased. Many say the craze is slowing down, but that is far from the truth.