Beta Club Hits the Road for Savannah!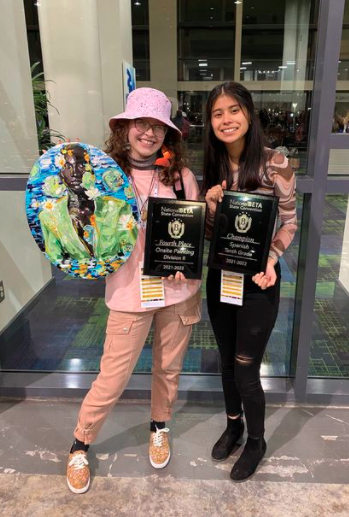 Cass High hit the road with six of our beta club members Alexandra Pacheco, Sydney Orr, Ashley Walker, Chole McMillan, Laila Denmark, and Bryan Salinas on Wednesday night to compete in the annual Beta Con at Savannah International Trade and Convention Center, Savannah Georgia. Beta club is an organization that was founded in 1934, their mission… to recognize and honor high academic achievement. According to their website, it has since grown to be, "the largest independent, non-profit, educational youth organization in America." For the past few months, the members of our chapter of Beta Club have prepared for Beta Con, their biggest event of the year. When asked about how Mrs. Nally felt about the beta trip she responded "It went great! It was a lot of fun and a successful trip because we had two amazing students place 1st and 4th in their events, and they both get to compete in nationals. We even got to explore downtown Savannah and got to go on a ghost trip!"  
Alexandra Pacheco, a second-time competitor took home 1st place for the second year in a row in the academic subject test 10th grade Spanish division 1. Alexandra believes Beta con was highly successful, and a great bonding experience for the individuals that participated. She feels that the group got closer as a beta club chapter especially since last year it was all virtual. She feels good to be a representative of Cass High School, specifically the Beta club chapter, at state two years in a row. This motivates Alexandra to continue to do good in the academic subject and push herself to have the same performance every year.  
Sydney Orr, a first-time competitor in division 2 onsite painting, said that while she felt like she did good, she could have easily placed higher in the competition. This is because as she arrived at her two-hour painting session, she was met with a shock… the competition had a drawing prompt. Caught completely off-guard, Sydney did what she could to adapt to the prompt – an abstract representation of nature – changing her nonabstract portrait's color scheme and adding other elements that made a connection to the outdoors. Despite this sudden change in her preparations, she amazingly managed to place fourth in her division and secured herself a place at the national level competition. Even despite being disappointed by the ghost tour, Sydney said she had a great time and is excited and ready for the next level of the competition.  
Our Beta-Con participants did a wonderful job representing Cass at the event and are yet another recent example of how bright our students can be. We can't wait to see them back in action soon as our national qualifiers head to compete in Nashville on June 30th.