The Bar Is Raised for Track and Field: A New High School Record!
Newbury Highschool Crushes 4×1 Mile Record by 30+ Seconds!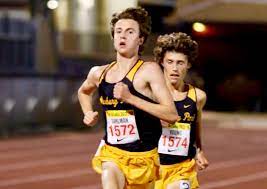 The 2022 track and field season has already given way to one of the most impressive national records for any high school sport. At the 2022 New Balance Nationals Track Meet, Newbury Highschool did the impossible. In the 4×1 mile relay, a race that requires a team of four runners to each run a mile back-to-back for a total race of 4 miles, their team made history. Two sets of brothers who attend Newbury Highschool as Juniors ran an incredible 16:29.31, breaking the previous national record by 32.5 seconds. This is a tremendous feat, an achievement only possible once in a blue moon. This is because the pace that each of these runners held for their mile is hardly ever seen in high school. To have one runner running a 4-minute mile is a miracle, let alone 4 runners who are approaching the barrier all attending one school.
To put into perspective how impressive this achievement is, let's look at their anchor runner Colin Sahlman. For this race, he ran a 4:03.74 mile, which is the pace of a 16:12 race, 12 seconds off from a 16-minute 4×1. In the history of the event, only two teams have ever run a sub-16-minute 4×1, Team Ireland in the 1985 Olympics and Team New Zealand in the 1983 Olympics. What makes this even more impressive is that earlier this season Colin posted a PB time of 3:58.81. Not only making him the 13th high school athlete in history to run sub-4 minutes but also proving that with the effort of the coming season it is possible for Newbury's team to come even closer to the 16-minute barrier. This is because Colin's brothers Aaron, Lex, and Leo Young are only seconds behind him.
Aaron Sahlman started for Newbury High School with a mile time of 4:11.17, the slowest leg of the team's race, but still a blisteringly fast mile by any other standard. Following him was Leo Young who started his leg with a 57-second quarter-mile split and finished with a time of 4:06.86 for the second-fastest split of the race. His brother Lex took the baton next and put down another great run with a time of 4:07.35. Finally handing the race off to their anchor Colin Sahlman who ran an incredible 4:03.74 to cement their new record with a margin of improvement of over 3%, which is almost never seen in races as competitive as the 4×1 mile.
Currently, Cass High School only has one runner who has posted an official sub-5 minute time. Jake Wright recently posted a Personal Best of 4:58 for his mile race and is closely followed by Critton Gearhart another fast miler who is looking to break the 5-minute barrier this season.