At Cass High School, the environment is comparable to a great big family. Not only are the school hallways, clubs, and sports teams similar to a family, but the bloodlines running through particular extracurriculars create a unique dynamic. Though there are multiple familial relations on the football team alone, the McWhorter's are building a dynasty. With Bear McWhorter on the offensive line, Brodie Mcwhorter as the Quarterback, and Bear's father Joshua McWhorter as the Offensive coordinator, they take the cake. Bear and Brodie are both sophomores on the Varsity football team at Cass and they are hard to miss. These two boys have been playing together since they were "able to stand up and run" states Coach McWhorter. They started with flag football at four years old and progressed to high school football at 16 years old. Bear recalls, "Our dads have always coached together, so we're always on the same team." Being on the same team for 11 years straight has helped build their relationship into a special bond witnessed on the field.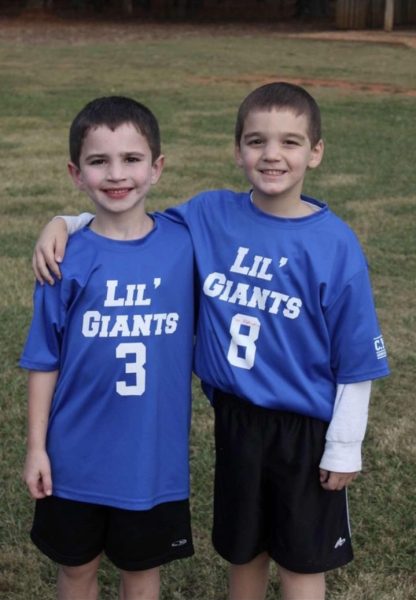 Being the Quarterback at a 5AAAAA high school puts a large spotlight on one's back. Brodie has been the starting quarterback since his freshman season. Playing at such an intense level so young can feel extreme at times but Brodie settled in quickly. "My first high school career game was the only time it has truly felt fast, but as I got more experience, I got a whole lot more comfortable," he recalls when discussing the tempo of the game and how he's grown into it. Regardless of the nerves, he's proven himself as the starting Quarterback, especially during the first round of playoffs against Jefferson during the 2022 season. "We were 30-point underdogs and came out on top by 10," he states. This thrilling comeback reiterates the strength the Cass Football team and players hold regardless of expectations.
Though quarterback is treasured as one of the most important positions, the job would be impossible without protection from the offensive line. Coach McWhorter claims "I'm a big believer that if the offensive lines are the best position group on the team, you're going to have a pretty good year." When given the opportunity to have Bear on your front line, Brodie is going to be in good shape. Though he is young for his bounty of success, he has worked every step of the way and does not let the outcome alter his mindset "I wouldn't say I expected it … but wanting it to happen and working for it," he says regarding his offers and large spotlight. His attitude has stayed persistent in pushing his fellow offensive linemen to their greatest extent. That being said, when surrounded by athletes such as Kail Ellis, Jayden Malone, Judd Hyde, and Peyton Graham, it makes the job easier. These young men have worked to create a strong environment where they push one another to their greatest capabilities. It's a mutual bond they've formed on the offensive line. 
Though being widely successful on their own, it is clear Bear and Brodie's relationship strengthens their performance. There is no question about their bond being more like brotherhood, "That's kind of how they go about their business, as brothers … It has a big impact," states head football coach, Coach Gates. If given the chance to catch these two explosive athletes under Friday night lights, it's abundantly clear to any spectators that these boys push one another toward their utmost potential. With Bear being an offensive tackle and Brodie behind him at Quarterback, they have similar ideas regarding their connection on the field. Brodie shares "[I] trust that Bear will always protect me – pass or run" while Bear comments "My job is to protect him so he can worry about the rest of the team." Their trust in one another is blatantly obvious when seen in action, not only does this bond come from playing alongside each other for 11 years, but from their connection off the field. Rituals such as eating in the same pregame spot or grabbing breakfast together are just a couple of their regular activities. 
Not only can these two boys be seen in the hallways and on the field but oftentimes they're out and about in the community helping others. Among their increasingly busy schedules, they find time to create an encouraging environment in their community. Understanding their impact on younger kids in the football scene is a big part of the legacy they're building brick by brick. Coach Gates explains "You know just who they are and they're always at the younger kids' games and middle school games and in the community working." They are inspiring young athletes to follow in their footsteps and encouraging the same fire they feel for the sport, though they are not the only McWhorters who recognize the passion. Coach McWhorter speaks highly of the game, "To me footballs still the greatest game ever invented … you learn so much from the game that it outweighs any negative," exclaims Bears father, Coach McWhorter. Their love for football has been instilled in them since they were able to hold one. It all started at home with both fathers building a strong foundation in the family which created their enthusiasm and vigor on and off the field.
As Bear and Brodie have grown up, collectively, they've received 28 offers. Though Brodie is taking his time and letting the offers roll in, Bear recently decided to settle down and commit to the University of Arkansas. Although it was early in Bear's career, he knew he was ready to call Fayetteville home, "I had seen everything I wanted to see and felt very confident Arkansas was where I wanted to go so I thought, why wait?" While his football career may not continue with Brodie, wherever they go they'll create a sense of family.  When questioned about attending college and extending their career alongside one another he replied "We both want each other to go to the best place for us" whether or not they stay together, they'll always be supporting one another's decision.  No matter the distance between these two, their brotherhood is undeniably strong.