Nike: Colin Attention to Racial Inequality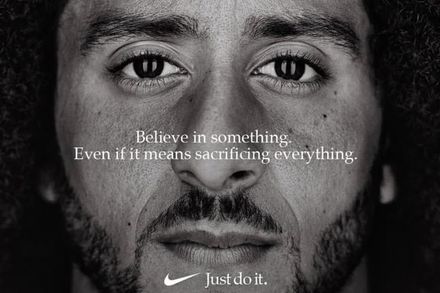 Advertisement
Hang on for a minute...we're trying to find some more stories you might like.
On Monday, September 3rd, Colin Kaepernick, the American football star who started the "take a knee" national anthem protest against police brutality and racial inequality, was named the new face of Nike's "Just Do It"30th-anniversary campaign. Shortly after, social media exploded with both positive and negative feedback from people all over the United States. As football season ramps back up, this advertisement and the message behind it keeps the NFL Anthem kneeling protest in the spotlight.
Colin Kaepernick is currently a free agent, a player who is eligible to freely sign with any franchise or team. He opted out of his contract with the San Francisco 49ers because the team wanted him to sign a contract that he will stand for the National Anthem. Kaepernick knew it would be a lie if he signed on the dotted line, so he left the 49ers in order to further promote his "Know Your Rights" Campaign. According to Colin Kaepernick's website, "he founded and fully funded the national Know Your Rights Campaign to empower youth in the community and teach various ways to interact with law enforcement as well as self-empowerment and motivation."
The words, "Believe in something. Even if it means sacrificing everything" lie on the face of Colin Kaepernick in the newest Nike advertisement, and these words are now well-known and very controversial. Right after the advertisement reached the general public, Nike's sales and stocks dipped more than two percent, spurred by concerns about consumer boycott. Now it is more like "what boycott?"  According to NBC news, "Nike sales have jumped 31 percent… and market research shows that 46 percent of Nike customers have a positive view of Kaepernick, compared to 34 percent of all Americans." "Controversial endorsements tend to generate a lot of hype," said Marshal Cohen, chief industry analyst for retail at The NPD Group, a market research firm. "These kinds of statements and brand partnerships make for a big impact on brand selling." There are headlines of people lighting their Nike apparel on fire, and then there are others that do not care and will continue to support Nike.
When Alex Green, Cass High School senior, was asked his opinion on the subject, he responded with nothing more than, "I don't really have a strong opinion on this ad. It has caused a lot of controversies, but I will still wear Nike and go on with my day."
Nike will continue to support Colin and his stance on racial inequality and police brutality and will begin producing Kaepernick apparel. Nike also said the campaign will also include other athletes such as Serena Williams, LeBron James, Lacey Baker, Shaquem Griffin, and Odell Beckham Jr. After years of prejudice and inequality, these influential athletes are igniting change in America's athletics one brand at a time.