Cass High Celebrates Black History Month with Annual Fair
On February 18, Cass High School hosted one of its biggest events of the year. The third annual Black History Fair ran throughout the whole day in the main gym. Students in every grade and all staff members were able to come to the fair through a well-thought-out schedule ensuring every student had the opportunity to attend the fair without missing much class time.
This highly anticipated event was organized by the Leadership Class with the help of Student Government, The Black Student Union, staff members, and outside community members.
"The Black History Fair started 4 years ago with a group of students asking administration if they could read celebratory highlights about figures in Black History over the morning announcements," says Leadership Teacher Christopher Page. "The event has since grown into an all-day fair in which all Cass students and staff [can] attend."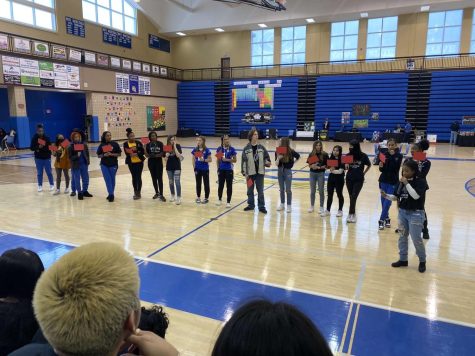 Pastor John Lampey of Mt. Zion Baptist Church, Mrs. Mecole Ledbetter from the Cartersville Chamber Leadership Bartow Committee, and LEDCO Entertainment & Consulting were all invited to come and speak to the students during 1st and 2nd period. Their stories of growing up as people of color and the challenges they faced helped establish a theme of progress as each speaker also noted that today when they enter schools, they see students who seem to embrace a community of diverse people. These speeches complemented senior Leadership student Eryn Lee's activity with which she opened 3rd and 4th period.
In this activity, 15 students were asked to come down and answer a set of questions with yes or no signs. The first few questions were fun and easy to ease the students in, but the questions eventually got more serious and asked about life issues, future fears, etc. The questions and their answers revealed how similar everyone was despite their racial or cultural differences and further encouraged unity within our diverse community. 
After the scheduled presenters,  the students were released to explore a variety of activities located in the main gym. There were games to play like football, basketball, and soccer where students had to answer questions regarding Black History to earn attempts to play the mini-games that were set up. In the middle of the gym, tables were set up with coloring sheets and bracelet-making stations highlighting different aspects of Black History. Surprisingly, to those that planned the event, dozens flocked to the bracelet-making stations.
"We really did not expect the bracelet activity to be such a big hit," said Edwin Veliz. "We only ordered a small number of beads for the bracelets, and by the time that the fair ended, we were completely out of beads."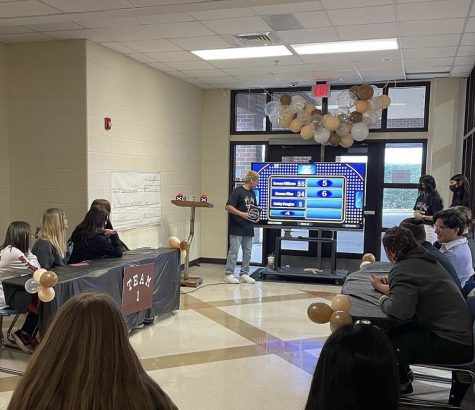 Upstairs Alexandra Pacheco, Jose Hernandez-Gasper, Ivania Quinonez, and Valeria Vences hosted the first-ever Colonel Feud, which was a parody of the famous Family Feud game show hosted by Steve Harvey. Two teams of 4 went faced off to answer survey-based questions like: What are the most famous HBCUs?; Who are the most famous Black superheroes? and so on.
When asked how she felt about her game after the fair, head of the Colonel Fued Committee Alex Pacheco said, "I am very grateful to have been given the opportunity to contribute to such a meaningful event. Our group worked really hard and it was good to highlight black heroes and influencers around the country. Plus, adding a fun twist by making a large-scale game made the event feel even more interactive and unified."
Right next to the Colonel Feud was the concession stand which sold soul food provided by J's Simply Soul, a Black-owned business right here in White, Georgia.  $10 got you a soul-pleasing plate of chicken, mac and cheese, collard greens, and cornbread.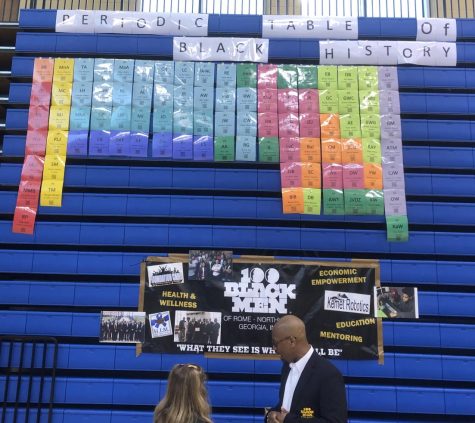 J's Simply Soul wasn't the only outside contributor. Booths were set up by staff and members outside of the community. Mr. James Lee, father to senior, Eryn Lee, oversaw the booth promoting the 100 Black Men of Rome organization, a highly revered youth organization dedicated to addressing the social, emotional, and cultural needs of children.
"This was my first Black History Fair and I thoroughly enjoyed it. The program, the food, and all were really good," said Mr. Lee. "I'm glad Cass took the time to recognize Black History and that I could take part. I hope they keep it up."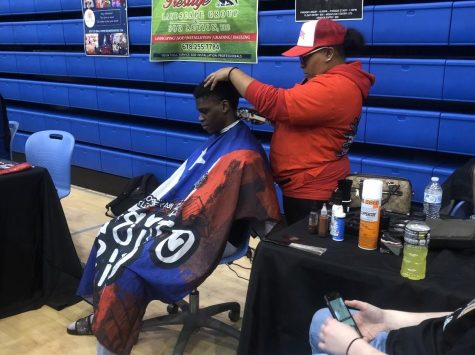 The school librarian Ms. Jackson had her own booth set up with a plethora of books written by black authors and beside her was Mrs. Thomas who had a ton of information on Historically Black Colleges and Universities (HBCUs). Meliza Agosto, a local barber,  came to promote her business, Fades N Blades by giving free haircuts.
Despite the amazing activities and booths provided, the decorations were what made the scene vibrant and brought the fair to life. Beautiful balloon arches were made, informational graphics were hung up on the wall, and an impressive photo booth was constructed so everyone could capture the moment. An interactive mural was also made to let students anonymously post what their biggest fear was. It featured a staircase and a motivating quote by Martin Luther King Jr. encouraging others to face their fears and be faithful in times of uncertainty.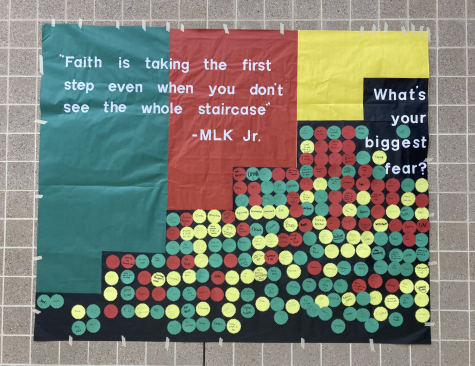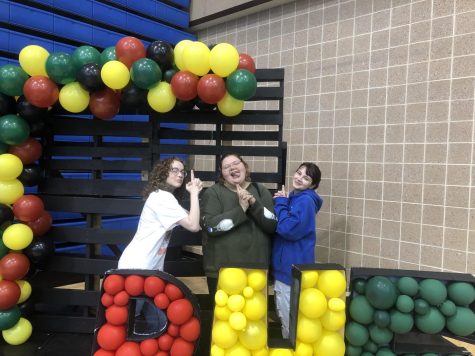 While students enjoyed the fun and games, Landon Varner took control of the background as DJ. He played music that took the audience through the history of Black artists. The playlist included old and new classics such as "Lean on Me" by Bill Withers, "What a Wonderful World" by Louis Armstrong, and "September" by Earth, Wind and Fire. During 3rd period, a dozen members of the Cass Band celebrated Black History with music by performing a jazz piece.  Jacques Denoux and AJ Martin also kept the beat on the bass guitar and the drum set during other songs. In 4th period, Nehemiah Deroche performed his hit single "Second Chance." He received a standing ovation from the crowd as students were released to take part in the activities for the rest of the day.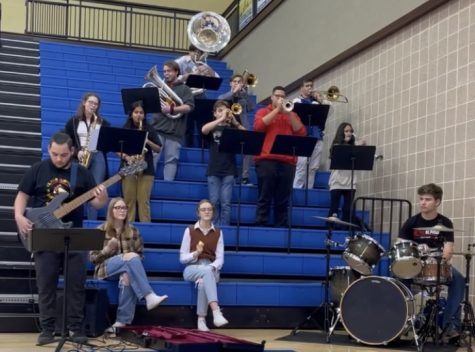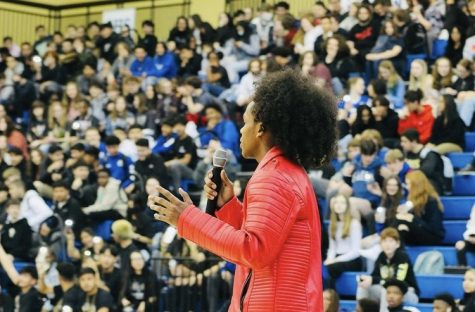 The Black History Fair was yet again a huge success for Cass High School, and it couldn't have been successful without the help of the Leadership Class, Student Government, the Black Student Union, staff members, and most importantly, dedicated community members.
"I was very impressed with the way our students, staff, and community came together to host the Black History Fair," said Principal Stephen Revard. "The event was educational and fun!"
When asked how she felt about seeing everything come together, Head of the Food Committee Kelly Young said, "Most of us were at the school at 6:00 A.M. that morning to set everything up in the gym. About an hour in, I remember looking around the gym for the first time, and I felt so excited, yet so relieved. The Black History Fair is the only thing that the Leadership class has worked on this semester, and there's so much we've worked on ahead of time, but also so much we couldn't do until the day of. I was worried that we didn't prepare enough as a whole group, but we focused more on our individual subcommittees, so I felt like everything came together beautifully."