Cass High Cheer: First Region then State
As the 2021 cheer season progresses, Cass High's competition squad prepares for their regional competition. The Lady Colonels have worked extremely hard all season to perfect their action-packed routine, and their hard work is paving the way to the state competition at the Macon Centreplex on November 19 – 20, 2021.
The first competition of the season took place on September 18th at Pepperell High School. After encountering an injury the day before the competition, the squad worked hard and made adjustments, leading to a first-place trophy.  Christie Barnett, coach of the squad stated, "I'm so proud of these girls and the hard work they have been putting in. It is showing! We are starting our season in a great place and can go only go up from here!"
The following Saturday, September 25th, Cass High took the mat at Calhoun High School. The girls performed well at the annual Calhoun Jacket Jam and placed second!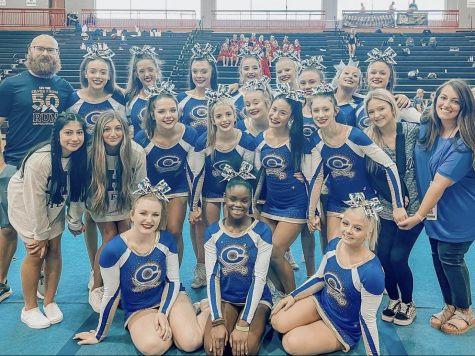 After two rough weeks of injuries, the Colonel ladies pushed through and competed at Allatoona High on October 9th. They finished in second place and improved in multiple areas of their routine. Andy, Stingray's coach expresses, "This group of girls are determined to work through any obstacle thrown towards them. I am extremely proud to coach this awesome team."
On October 16th, the squad took the mat at Creekview High. The ladies placed first among several teams and received their highest score of the season yet!
The squad competed in their last regular competition of the season at Adairsville High School. Cass hit a solid routine which translated into a 1st place finish.  What a great accomplishment heading into the Regional competition.
With regions coming up on Saturday, November 13th, the competition squad is working extremely hard for this competition. The 5A teams competing against Cass are Calhoun High School, Cartersville High, and Greenbrier High School. Senior Morgan Green states, "As a senior, I'm sad this is my last season, but I am so proud of our team and how far we've come. I'm ready to take on Region with my girls!"
Come support your colonel ladies as these girls wrap up their season, and for some girls, their cheer career.
Cass High wishes the best of luck to our competition squad!