College Football National Championship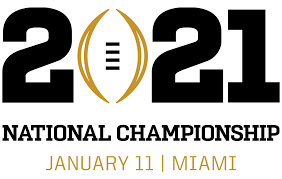 On January 1st, 2021 two college football programs Alabama Crimson Tide and the Ohio State Buckeyes cemented their spots in College Football history. However, this was no ordinary championship game. This was the championship for a season riddled with canceled games and key players getting quarantined. Both teams faced unique challenges this season that they hadn't seen in years past. This had all the makings of a great game.
The Crimson Tide had what might be the most difficult season they've ever had with an all-SEC schedule. They started their season off strong with two straight blowout wins against Missouri and Texas A&M. They hit their first of many bumps in the road in their 3rd game against Ole Miss. The Tide's defense couldn't stop the Rebels' offense with them allowing 647 yards and 48 points. However, the Tide's offense was up to the task accounting for 723 yards and 63 points. Both teams accounted for a combined total of 1,370 yards an SEC Record. After the tough win, Alabama continued to cruise through the rest of their schedule until they got to the conference championship game. This time they played a 2 loss Florida team with a high-powered offense. The game was back and forth with both offenses shredding the opponent's defense. But the game ultimately came to an end with a 52-46 Bama win that dashed any hopes of Florida getting into the playoffs.
Bama then played a 1 loss Notre Dame team in the CFP Semi-Finals. The Tide easily won with a score of 31-14. When asked about their loss to Alabama Notre Dame Head Coach Brian Kelly reportedly said, "We just needed more firepower, quite frankly." Their next task was to wait for their opponents to be named later that night.
The latter of the two opponents was the Ohio State Buckeyes. The season for the Buckeyes was shorter than most with the Big 10 starting play on October 24th, almost a month after the SEC. They steamrolled through the first 3 weeks of their season with wins against Nebraska, Penn State, and Rutgers. The next game they were supposed to play was against Maryland, but it would end up being one of their three canceled games this season. The next week they would get a close win against a tough Indiana team. They would end up playing only one more regular-season game against Michigan State. Many Ohio State fans were in fear that the Buckeyes might not be eligible to play in the Big 10 Championship due to them not playing the required amount of games. But the Big 10 decided to change the rule requiring 6 games to be played to be eligible, thus placing Ohio State into the championship. In the championship game, Ohio State's high-powered offense was slowed down by a strong defensive performance by Northwestern, but Ohio State prevailed with a 22-10 win. With that win, they earned their place in the CFP Semi-Finals against Clemson. This game would be a rematch from when Clemson beat them in the semi-finals last year. The Buckeyes hushed all the doubters when they led at halftime 35-14 thanks to outstanding play from their quarterback Justin Fields, who had gotten injured earlier in the game. Fields however chose to stay in the game and help lead them to an outstanding 49-28 win over a 1 loss Clemson team. Thus, clinching their spot in the National Championship. When asked about Ohio State after the game Clemson Head Coach Dabo Swinney reportedly said, "They were the better team, and they earned it."
The National Championship game was scheduled to happen on January 11th but was in danger of being moved with Ohio State facing Covid-19 concerns. However, the game was never moved. The game started out with both teams trading scores in the 1st quarter. The second quarter started off the same with both teams scoring touchdowns. Alabama began to edge away when they scored a touchdown and held the Buckeyes to a field goal. From there Alabama's offense took over scoring 2 more unanswered touchdowns in the second quarter. Heisman Trophy winner DeVonta Smith also broke the National Championship reception record with 12 receptions in the first half. Alabama never lost their lead in the second half with an easy 52-24 win over Ohio State. This win gave Alabama's head coach Nick Saban his 6th National Championship since 2009. When asked about the season Mac Jones reportedly said, "I think we're the best team to ever play."