NBA Players Boycott Game 5 of the Playoffs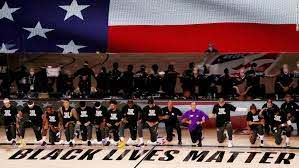 While quarantined in the Orlando bubble, many players/staff in the NBA are restricted in the ways they can protest for the Black Lives Matter movement. However, with the first round of the playoffs just beginning, the NBA is getting a spike in viewership which has inspired players to use this platform to show their solidarity with the Black Lives Movement. Many players and the league commissioner (Adam Silver) are hoping that using this platform will help bring to light the many struggles African Americans face in our American society. Some things the league is doing to raise awareness to these struggles include having the words "BLACK LIVES MATTER" written on the court in big letters, and wearing warm-up shirts with the powerful words "I Can't Breathe" which was said by George Floyd before his death involving 4 Minneapolis police officers. NBA commissioner Adam Silver agreed to support the league's actions saying, [ He and his players feel a]"sense of an obligation, social responsibility, a desire to speak up directly about issues that are important".
Although much attention has been given recently to struggles African Americans have within the American justice system, cases of police utilizing deadly force are still very much in our national headlines. One example of a recent incident is the shooting of Jacob Blake, who was shot 7 times by a police officer in Kenosha, Wisconsin. Outraged by this newest incident, the NBA players felt the need to do something bigger. Wednesday, August 26th, the players decided to boycott game five of the NBA Playoffs as a form of protest for Jacob Blake. Lebron James commented on Blake's shooting saying, "And I said it, I know people get tired of hearing me say it but we are scared as Black people in America. Black men, Black women, Black kids, we are terrified." James's sentiments seem to speak to the fears and frustrations that many people have with our current society. It also speaks to why showing support for the Black Lives Matter movement is so important to this organization.
After the boycott of game five, the commissioners and leaders of the league had a meeting with the players to decide on continuing the season or shutting it down to focus on the problem of social injustice in our nation. Ultimately, they came to an agreement to resume playing but only on certain conditions. These conditions include: establish a social justice coalition featuring representatives from players, coaches, and governors;  convert team arenas into voting locations for the 2020 general election, and create advertising spots for playoff games that promote civic engagement in local and national elections. Aside from the civic actions taken by the NBA, Oklahoma City point guard Chris Paul highlighted the unique influence professional athletes can have on our society. "We understand how strong our voice is, how powerful our voice is, and ultimately, we decided if we go away from this stage, we don't necessarily have that same platform so we stood in solidarity".
While some critics claim that professional athletics should not be politicized, others are hopeful that by getting this kind of national exposure conversations can begin to happen that will ultimately help lead to social justice and national healing.