The Migrant Caravan of 2020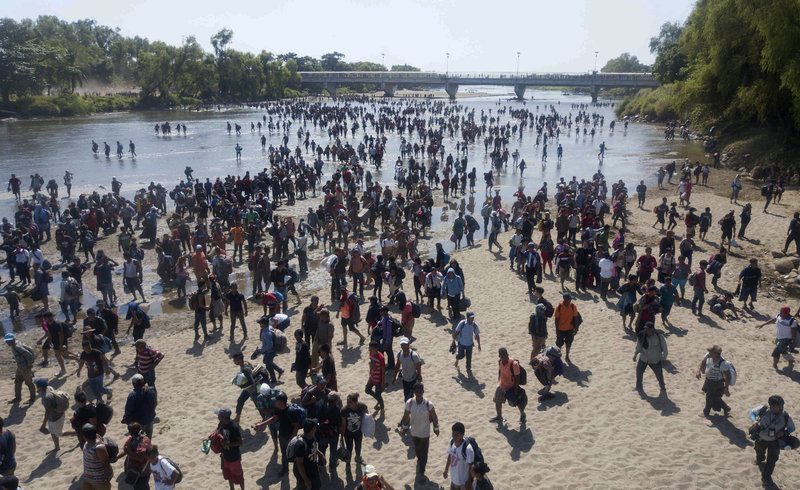 It is often said that history repeats itself, and for Latin America and the United States, this saying holds true. In November 2018, a migrant caravan of thousands of people, mostly Hondurans and Guatemalans, trekked to the U.S.-Mexico border to escape the overwhelming amount of poverty and violence that plagued their countries. Now, hundreds of Hondurans are attempting to start another caravan.
On Wednesday, January 15th, many people began traveling by foot and hitching rides from San Pedro Sula, a city in northern Honduras, to make their way to Mexico. Throughout the day, the caravan grew as many others seeking asylum in the United States joined the march. Unfortunately, asylum will not come easily, as efforts to reduce migration have increased.
At the Guatemalan border, the migrants were met with resistance. Reports state the Honduran police fired tear gas at a group trying to cross the border. In Morales, the capital of Guatemala, National Police began checking the migrants' documents. Because they had not registered with immigration officials, roughly twenty Hondurans were taken back to the border. The caravan is expected to face more obstacles as they approach Mexico.
Under pressure from the Trump administration, Mexico has tightened its migration enforcement. Thousands of Mexican security forces have been deployed to break up forming caravans and block migrants from arriving at the border. Human rights activist Itsmania Platero explains, "The Mexican police have a large contingent and they are going to catch all the migrants without documents and they will be detained and returned to their home countries."
The United States has also attempted to decrease the flow of migrants by signing agreements with Guatemala, Honduras, and El Salvador that require migrants to first seek asylum in these countries before applying the United States.
Many migrants said they understood that making it to the United States would be difficult, but they would try anyway.
26-year-old Elmer Garcia, from Comayagua, Honduras, remarked, "We aren't living here, we're just surviving, so it doesn't make much difference if you die there, or die here."
Another migrant, Israel Conner, a Nicaraguan that fled to Honduras to avoid political and social upheaval, left with his wife and their three children, ages three to five.
"We are going to struggle, but if God is with us nobody can stop us," Conner explained, "We know we are going to get through Guatemala, and God will soften the hearts of the Mexican authorities."
After reaching the U.S.-Mexican border, migrants will have two options: get sent back to Guatemala, as part of the new U.S. agreement, or enter the Migrant Protection Program.