Dog Gone Kind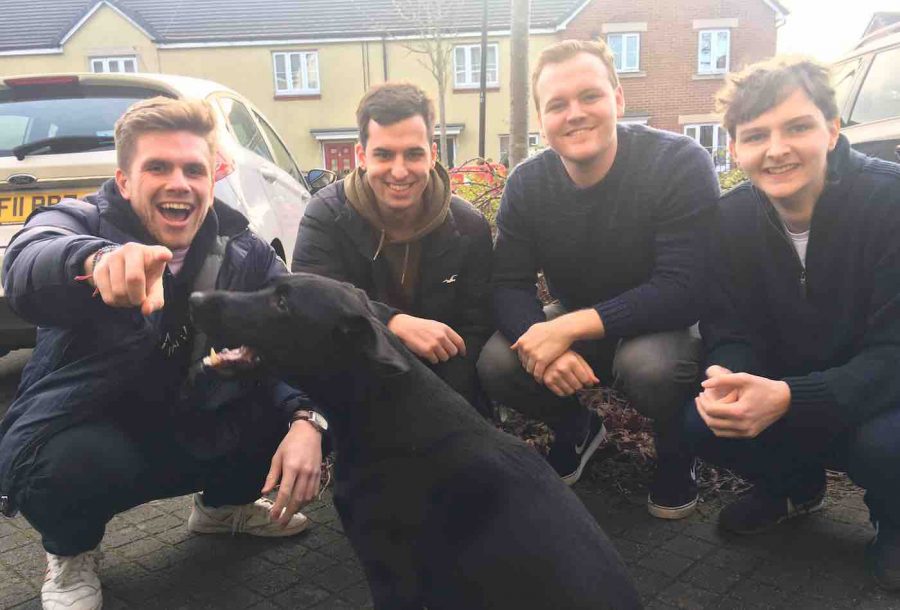 When renting a house, apartment, or another home, one thing to note is that many landlords do not allow pets. This was the case for Jack McCrossan and his three roommates, who discovered they couldn't have any dogs of their own in their new home in Bristol, England. However, when they noticed a dog looking at them through the window, they reached out to the household.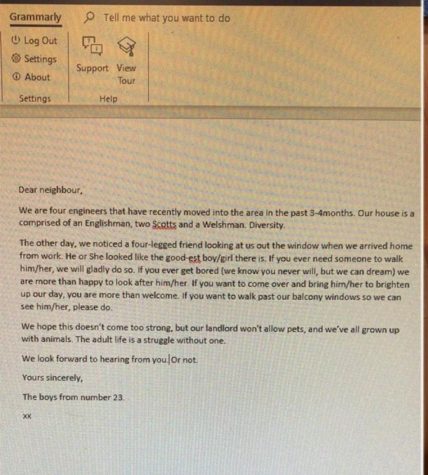 The men wrote a letter to their neighbors, asking to play with their dog sometime. They wrote, "If you ever need someone to walk him/her, we will gladly do so. If you ever get bored (we know you never will, but we can dream) we are more than happy to look after him/her. If you want to come over and bring him/her to brighten our day, you are more than welcome. If you want to walk past our balcony windows so we can see him/her, please do." They also included information about their recent move before continuing, "We hope this doesn't come too strong, but our landlord won't allow pets, and we've all grown up with animals. The adult life is a struggle without one." They signed the letter with "the boys from number 23."
These men were in for a surprise when they got a letter back to them. The four were especially in awe to discover that the letter was from the dog herself!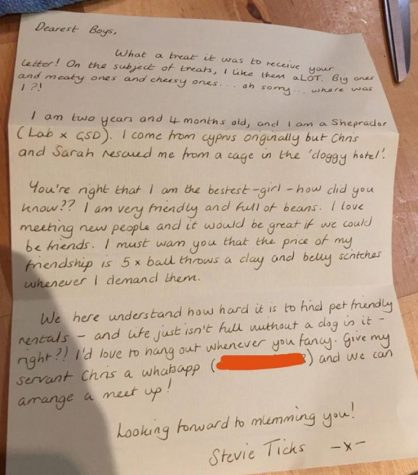 The letter was written by Sarah Tolman on behalf of the pup, Stevie Ticks. It included that the pet was "two years and four months old and was a Sheprador (Lab x GSD [German Shepard])." She was rescued from the "doggy hotel" by owners Tolman and her partner, Chris. She says she is "very friendly" and "loves meeting new people." Concluding the letter, she said she would love to hang out with the men.
Everyone met up over the weekend, and they all clicked. McCrossan says, "Meeting Stevie was great! She was definitely as energetic as described. We got to take her for a walk, and she wouldn't stop running!"
Now, the neighbors have a group chat, and they schedule times when the men can walk Stevie Ticks. Tolman states, "In a day and age where people don't really know or speak to their neighbors, it was really nice for them to break down that barrier."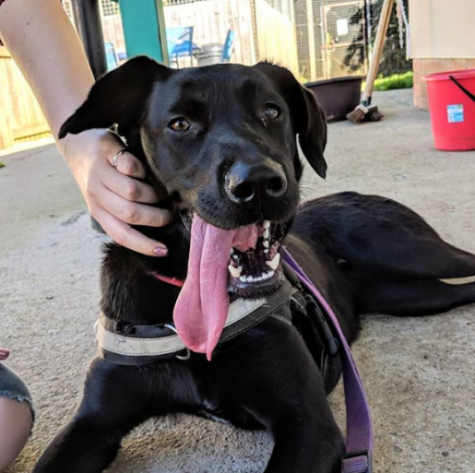 McCrossan posted the experience on Twitter, and it soon blew up. Thousands of people had commented on his story, and the heartwarming event had elicited many responses. "Surprised is an understatement," McCrossan states. "It's honestly felt very surreal seeing how popular the post has been and the thousands of positive responses from everyone!"
Here's to a lifelong friendship between Stevie Ticks and "the boys from 23."