Cass' Final Football Game of the Season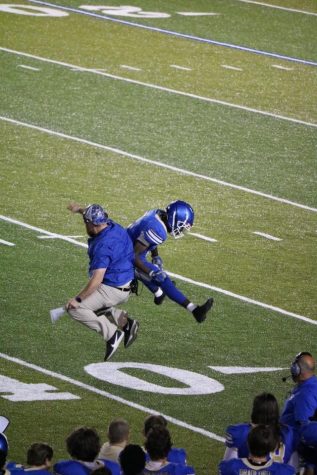 On Friday, November 8th, the Cass High Colonels played their last game of the season against Paulding County. Although it was an away game, the student section was still full and cheering for the Colonels. All the hard work everyone put into this season was shown when Cass won 51-25. Despite this season being a bit of a bumpy one, the football players, band, and cheerleaders gave it their best each Friday night and are proud to close out this season with such a tremendous win.
As the Colonels wrapped this season up, students shared that there were complicated emotions pertaining to the last game of the season. One of Cass's football players, Chandler Dupree, stated, "I'm going to be honest, there were mixed emotions that night. I was feeling really happy that we ended on a high note but also sad because it was our last game." Many seniors at Cass High said this same thing when asked about the final game. It seems as though people were happy they won, however, still sad that it was already over.
To recap this season, the Colonels went 4-6; they won against Forsyth Central, Woodland, Villa Rica, and Paulding County; and their state ranking went up. Many students had various emotions concerning this season. A senior at Cass High School, Christian Cowart, stated, "I felt as though this season caused a sense of unity, not only with the football team but also with the whole school. This season proved that we were capable of banding together, even though it was a little bit tough." Although it was a rocky season for the Colonels, the football team, band, and cheerleaders continued working and striving for the best.

Because it was the last game of the year, many students found themselves reminiscing about their favorite parts of the season. Hallie Green, a senior at Cass High School, stated that her favorite game this season was "the homecoming game, as it was interesting to see who was on the court that night." Whether the students had a favorite game or not, they still showed loyal support to their football team, and Cass had a big turnout for each game.
As a whole, Cass High had a very successful season, even if they didn't win every game. The students showed support throughout the entire season and steadily crowded the student section every Friday night. The football players, cheerleaders, and the band showed a tremendous amount of effort every football game, and everyone deserved this final win to wrap up this season.