Band New Show Lights Up the Night
As the second quarter slows to an end and the football players retire for halftime, there is another group of students working hard to prove their worth. The band students. The ones who can march agonizing distances while wasting all their oxygen on bulky instruments. The ones who are forced to carry that metal or wood at uncomfortable angles for ten minutes straight. The ones who have learned that a team is only as strong as the weakest link and that one person out of line can be the difference between a 1 or a 2. The ones who cram into tight buses and drive up to several hours to show off their skills at competitions and parades. The band students.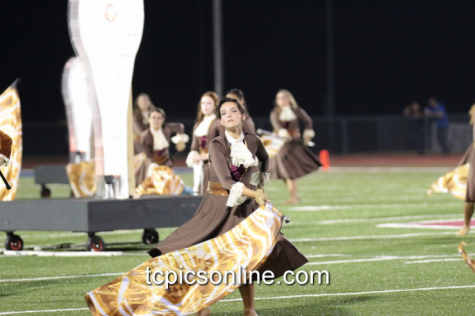 This year, their show is called "Illumination" and is about the history of and celebration of lights. It includes songs such as Johann Sebastian Bach's "Two-Part Inventions," Eric Whitacre's "Lux Aurumque," and Ellie Goulding's "Lights." The color guard, decked out in ruffle collars and eighteenth-century style clothing, uses lightning-themed flags. There are light bulb props that light up throughout the show. Even some of the band's sets are shaped as light bulbs! The theme is everywhere in sight, and every aspect of the show is littered with light-themed objects. Caleb Doolittle, a trumpet player and senior, states, "I want everyone to keep in mind that the show isn't 'about light.' It is the history, the importance, and the celebration of light. The first movement encapsulates the origins, the second captures the reverence and need we have for it, and the final movement is our 'thank you' to the lights of our world." Many students love the theme and are grateful for such a creative yet entertaining idea. "I really like this year's show theme," Selma Sanchez, a saxophone player and a junior, says. "I think it's different than what we've done in the past, but it's such a cool concept and actually more challenging than people think."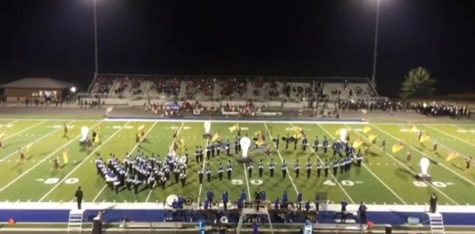 Each year, Megan Pruitt, the band director, pushes the students more and more. The shows get more complex, and the music becomes more difficult to play. Doolittle claims, "Everything in band has increased in difficulty over the last few years, for the better, of course. We are playing way harder music and marching harder drill than ever before." By providing harder work, Pruitt is refining their skills and pushing them to do the best they can. She is also teaching them a valuable skill in life: it's not easy, but it's worth it.
Unlike previous years, this show has a popular song embedded into the show. Most of the audience can recognize the song "Lights," and the band isn't used to playing hit songs that can be heard on the radio. Erick Rodriguez, a member of the front ensemble and a senior, states, "It's really beneficial to play a pop song because it gets a great response from an audience, especially at a competition, and the audience is really what fuels us when we're on the field. Its recognition doesn't necessarily make the piece harder to play, but it does add a layer of [importance or value to it] because the audience knows the piece and if it's played wrong, then it's obvious."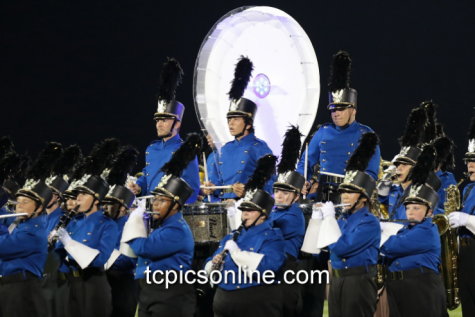 Since May, the band has worked incredibly hard to refine their skills, both for music and marching. They suffered weeks' worth of sweltering sun in the dead of July and hours' worth of practice after school to improve their work. With competitions advancing so soon, it is impossible to take a break.
This is many students' last year in band, and it is harder to cope with their departure, as these are the last students that Pruitt taught when she was still teaching at Cass Middle School. Although the seniors are sad to leave, they are grateful for the opportunities that being in band has brought them, and they are glad that "Illumination" was their final show. Hinal Patel, captain of the front ensemble and a senior, states, "Being in band for all four years of my high school career—from marching clarinet freshman year to proudly becoming a marimba player for three years—I've gotten to see the band grow—physically and musically. Each year, the shows have gotten better. Is "Illumination" what I wanted as my last marching show? The answer is, 100%, a YES! Every game, every practice, every performance this year, I have had an amazing time with all my friends, and this year has been so entertaining. The music is difficult, but we enjoy playing it, and expressing our love for music as a whole helps us show the crowd what being a proud Marching Colonel feels like."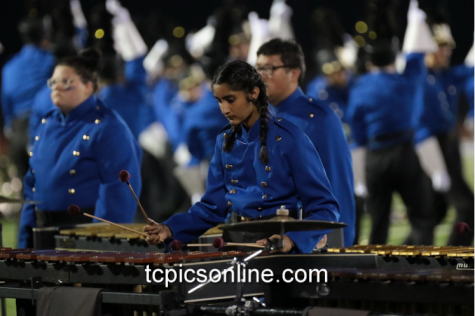 The band students, alongside Pruitt, are incredibly proud of their show, their accomplishments, and their hard work. They hope to bring several 1's (the best score one can receive at a competition) back to Cass, but even if they don't, they're proud of themselves regardless. Bryan Wickenheiser, a member of the front ensemble and a junior, states, "I want all of Cass High School to know that their band program has spent countless hours in the heat, shedding blood, sweat, and tears to perfect this year's marching band show. So come out and support your Marching Colonels and remember…GO CASS!"
Their first competition is on October 5, 2019, at Collins Hill High School. Don't forget to support the Marching Colonels and watch them light up the night!