Cass VS Adairsville
Hang on for a minute...we're trying to find some more stories you might like.
              On Friday, August 30th, 2019, crowds of students from both Adairsville and Cass flocked to Adairsville High School to cheer for their corresponding teams. It was the first football game of the season, and after winning the scrimmage, the Colonels had high hopes. Although they didn't come out on top, everyone still had a great time due to the energy of the student sections. Cass's theme was Hawaiian night, and various students went all out and worked together to bring out the school spirit. A well-known student and a senior of Cass High, Daud Shahid, stated, "I think the student section was amazing due to the mass turnout, as well as of how we overdid Adairsville's turnout! I believe the theme was a nice idea, it's truly iconic."
                As far as the game goes, Cass lost by seven points. However, students still have high hopes and are still showing immense, good sportsmanship following the loss. Another student at Cass High, Christian Cowart, a senior, stated, "Obviously everybody wants to win a game, but I think the losses can bring us together too, if we let it. It's really important that we are supportive of our Colonels—win or lose—because they all (band included) put so much work into their performance, and I personally find pride in knowing that my school can put in work and go out there, win or lose, and have fun." The students and football team are banding together and are hoping to win next Friday.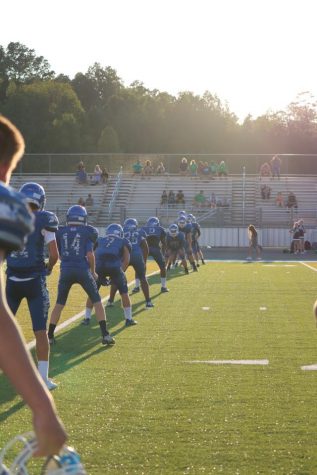 The Colonels are still motivated and taking this loss as a lesson to be learned. Cass's defensive end, James "JP" Perry stated, "There is still more of the season to come, and as for tonight we just have to shake it off and worry about the game ahead. We try to win one game a week as we prep our minds for every new team on Friday." The Colonels have lots of hope for the rest of the season and are determined to work harder in order to win. The players have a similar mentality concerning the upcoming season and are taking this loss extremely well. Cass's defensive tackle, Chandler Dupree stated, "A wise man put it like this: we went one and nine last year and beat Adairsville. This year, we can go nine and one and lose to Adairsville."
At the end of the day, the football team, cheerleaders, and band worked extremely hard in order to represent Cass High. Concerning this upcoming season, the Colonels are collectively showing hope and are ready to take on whatever their opponent throws at them. This game has brought together the students and football team; as  stated above, this loss has encouraged them to come together as a school and encouraged them to show support for their football team, win or lose.