Coach Arnold's Amazing Achievement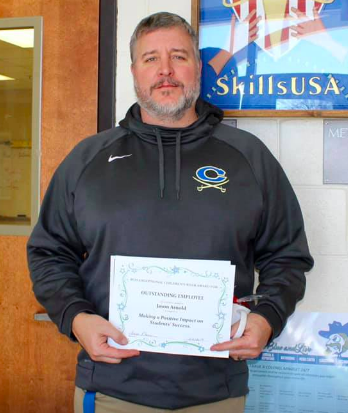 Cass High School's Jason Arnold has recently been nominated as an Outstanding Bartow County System Employee for his amazing ability to uplift students.
Mr. Arnold is a CTAE teacher that has harnessed the unique skill to draw the best out of students in his classes. This skill is both difficult to find and difficult to master. Many students spend a great deal of their school day merely attempting to make it through the day, but Mr. Arnold ensures that these his students find value whenever they step foot into his room.
Christy Mason has made sure that Arnold's efforts have been noticed. She recently nominated Arnold as an Outstanding Bartow County System Employee. Ms. Mason is astounded by Arnold's ability to uplift and inspire students to reach for success, stating, "He has the ability to take a student who has never held a tool in their life and move them to the point that they are excited about the field of construction and want to show off their new skills of reading a tape or using tools to create something. Besides teaching his students hands-on skills, Mr. Arnold makes a point to incorporate soft skills lessons designed to make students better citizens."
Mr. Arnold's proficiency at encouraging adolescents to strive to for success is admirable and appreciated by his students and his coworkers and wrestlers. Mr. Arnold also pushes high school students to achieve on the wrestling mat for Cass High School. He has coached a plethora of state champions and has aided Cass in earning a spot at the state duals competition each year he has coached for them.
Mr. Arnold has been and continues to be a monumental and influential member of the Cass High family. He motivates, encourages, and teaches students to be successful students and positive people. This is why he has been nominated as an Outstanding Bartow County System Employee.