Star Athlete Named STAR Student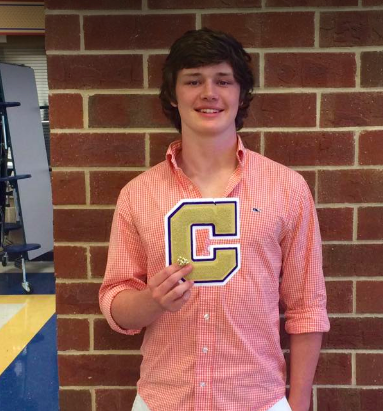 #10 on the field, #2 in our class, and our 2018 Homecoming King, Rett Moore, is recognized as this year's S.T.A.R. Student.
Money Moore has achieved the highest SAT score in his class, an impressive 1390, which is in the 94th percentile in the United States. He will be attending a luncheon for all Star Students in the county recognizing their academic achievement. Along his side will be Mrs. Alana Guilford, the AP U.S. History and AP Psychology teacher as his Star Teacher. Rett chose Mrs. Guilford as his Star Teacher because "her class was very engaging and she made it easy to succeed by bringing enthusiasm and passion to the classroom every single day. I'm not sure exactly what I want to do in my future, but because of her, I have seriously considered pursuing a career in politics."
Rett Moore is known by his fellow teammates as a "hardworking leader." Off the field, Rett is a charming intellectual who is adored by many teachers and peers. Mrs. Guilford, among these teachers, "cannot say enough positive and wonderful things about Rett Moore. Rett is such an asset to have in the classroom not only because of his gifted intellect but because of the energy and enthusiasm he exudes."
On top of his already busy schedule, the Cass Star Student is the Vice President for National Honor Society, captain of the Wrestling team, quarterback for the Football Team, a member of the Beta Club, National English Honor Society, and Spanish National Honor Society. Due to his impressive resume, he has already been accepted to the University of Georgia and plans to apply to several ivy league schools.
When asked about his inspirations, he quickly said, "As I walked into the testing room, I followed the inspirational words of Dylan Williams to 'ball out'." This positive and stress-free mindset helped him to score the highest SAT score for the entire class of 2019. "I'm just thankful for the people who have helped me get to where I am today."