Angling for a Win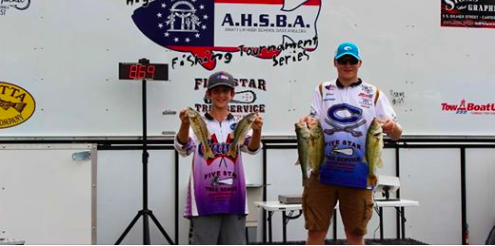 Advertisement
Hang on for a minute...we're trying to find some more stories you might like.
Gabe Franklin, a senior at Cass High, won 1st place in Amateur High School Bass Anglers Tournament at Lake Weiss on Saturday, September 8, 2018. Because this is not a school-sanctioned sport, rather a club, students have the unique opportunity to be paired on teams with students from other area schools. Gabe's teammate, a freshman at Carterville High School, and he have been fishing competitively together for the past two years.
In order to win a tournament, a team must have the highest combined weight of 5 bass fish. The teams have from 6 am until 2 pm to complete this task. The winning team receives prizes such as new rods, tackles, and a trophy as well as 100 points. At the end of the season whichever team has the highest amount of points, will win the season championship.
When Franklin was asked what he hoped to do with his fishing expertise in the future he said he, "hopes go to college at Abraham Baldwin Agricultural College and get a spot on their fishing team." He also hopes that he can use this experience to eventually begin competing at the professional level.
Congratulations Gabe, and good luck in your next tournament.