The Politicization of Molly Tibbetts's Death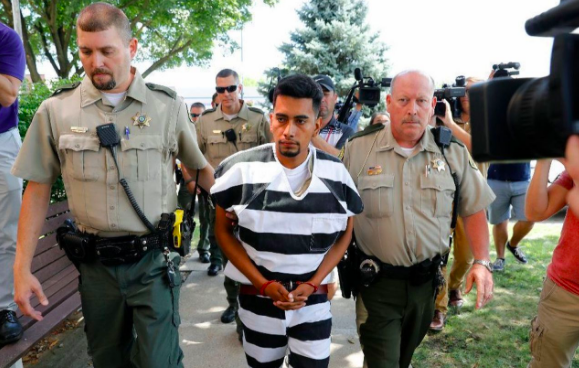 Hang on for a minute...we're trying to find some more stories you might like.
Search for missing University of Iowa student, Mollie Tibbetts, concluded on August 21st, just over a month after she went missing.
Mollie Tibbetts was last seen July 18th in Brooklyn, Iowa where she went for a regular evening run. Her boyfriend, Dalton Jack, received a Snapchat from her, most likely the last message she sent before she was murdered.
Her friends and family realized she was missing the following day when her coworkers said: "She had not called into work that day and she hadn't showed up." He'd texted her that morning but got no response.
A massive ground search involving more than 200 people broken up into 37 teams was conducted on July 20 encompassing the farmlands and fields within a five-mile radius of Brooklyn, with helicopters hovering above, according to authorities. Investigators also used Mollie's digital footprint, her social media activity and even the data from her Fitbit tracker. The reward for the discovery of Mollie's body reached $366,000.
The suspect, Christhian Bahena Rivera, 24, is an undocumented Mexican immigrant worked at a local farm for the past 4 years, according to Associated Press. He has been charged with first-degree murder after leading investigators to the cornfield where he hid her body.
Rick Rahn, a special agent in charge for the sector at the Iowa Division of Criminal Investigation unravels the story. Rivera admits that he saw her running, approached her, and ran alongside or behind her, even relaying to authorities that Tibbetts had grabbed her phone and threatened to call the police. He continued to pursue her and then abducted her, Rahn said.
At a hearing Wednesday the 22nd, Magistrate Judge Diane Crookham-Johnson granted a state prosecutor's request to raise the bond amount from $1 million to $5 million due to "heinous" nature of the crime.
Rivera's immigration status has become a focus of many politicians and officials across the country. The Trump Administration is using Mollie's murder as a political taking point to establish more harsh immigration policies.
Many news outlets and influential people of the country have made their opinions clear, including Kelli Ward who is running as Arizona Senator via twitter, "The lack of leadership & courage by open border senators like @JeffFlake, @SenJohnMcCain, & #amnesty advocate Martha McSally contribute to these senseless deaths. We need true leadership in the Senate to #BuildTheWall & secure our borders!"
Mollie's aunt, Billie Jo Calderwood, told CNN "I don't want Mollie's memory to get lost amongst politics." She also asked people to remember that "Evil comes in EVERY color." After the nation was divided on immigration opinions, the Tibbetts family made a statement as follows:
"Our hearts are broken. On behalf of Mollie's entire family, we thank all of those from around the world who have sent their thoughts and prayers for our girl. We know that many of you will join us as we continue to carry Mollie in our hearts forever. At this time, our family asks that we be allowed the time to process our devastating loss and share our grief in private.
Again, thank you for the outpouring of love and support that has been shared in Mollie's name. We remain forever grateful."
This tragic death has sparked conversation from women's rights activists, reiterating the fact that over 80% of women will be the victim of a violent crime at least once in their lifetime. Activists also try to shift the conversation away from blaming immigration.
Mollie's funeral was held Sunday, August 26th, and her family and friends want everyone to remember her passion for life and desire to help others.