NFL Free Agency Update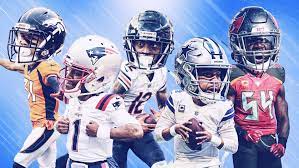 On March 17th, the 2021 NFL free agency opened. This year countless NFL stars were available for hire. Players of the likes of Kenny Golladay, A.J. Green, JuJu Smith-Schuster, Haason Reddick, and Will Fuller V. Free agency could be considered the most important time of the year for an organization. This is when teams get built or dismantled.
Free Agency started with the New England Patriots making a massive splash by signing multiple big-name players. Those players were Hunter Henry, Jonnu Smith, Nelson Agholor, and Kendrick Bourne. The Washington Football also made a noticeable move by signing quarterback Ryan Fitzpatrick. The Titans signed a good pass-rusher in Bud Dupree. When asked about the signing Titan fan Trey Scott reportedly said, "I'm happy about it, they needed a good pass rusher."
The Panthers also signed a pass-rusher by the name of Haason Reddick. The Cardinals signed an NFL legend in kicker Matt Prater. The Chargers filled the gap left by the loss of Hunter Henry with tight end Jared Cook. The Nickelodeon Valuable Player, Mitchell Trubisky was signed by the Buffalo Bills. The Dallas Cowboys signed former Falcons safety Keanu Neal. The New York Giants signed Kenny Golladay. When asked about why he signed with the Giants he reportedly said, "Just the pieces on offense. Those guys actually kind of reached out to me and I liked the vision that Coach Joe Judge had and Jason Garrett, as far as the offense, and I was all the way in."
The Arizona Cardinals signed veteran wide receiver A.J. Green. When asked about the signing Cardinals Head Coach Kliff Kingsbury reportedly said, "To be able to do what he's done from Year 1 to Year 2 without an offseason, I'm excited to see where it heads next. I think we all know the talent is immense, and he has a chance to be as good as anybody in this league." The Miami Dolphins signed wide receiver Will Fuller V.
With the NFL draft coming on April 29th, many players hope they too will be signed.