Saving the World One App at a Time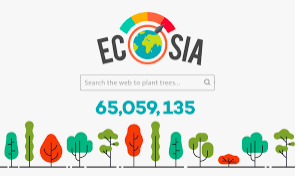 Hardly anyone goes through life without access to a smartphone to have the "world at their fingertips." And while smartphones are used for utilitarian things like texting hello to friends and family, perusing social media applications seem to dominate the majority of our screen time use.  Hours each day are spent scrolling through Instagram and Twitter in search of entertaining distractions from our real lives. Several companies are capitalizing on the popularity of applications while also trying to better our society. 
Ecosia is an app that hops on the tree plating train, truly the search engine for the environmentalist, it aims to help make the world a better place through reforestation. The way it works is simple when you use Ecosia they give 80% of their profit to non-profit organizations that plant trees where we need them most. "A company, whose whole business model is built around planting trees. To fulfill its goal, the company's customers don't need to do anything more than leisurely browse the web at their convenience." Says Forbes Magazine, it's not just random people, big companies are hopping on the bandwagon too. They claim that with each search you give them they will give the world 1kg of fresh air.  And with more than 15 million users around the world, this app gives us the power to change the world with every search you give.
Dreamlab allows you to be a part of the solution and discover a cure while you sleep. All you must do is turn on the app, choose what disease you'd like to see cured, and go to sleep knowing that you're making the world a better place. It works by using your phone and thousands of others to perform complex calculations that would take universities several months. They then use these calculations to make big advancements in a chosen field. Some current projects that are available are Covid-19, Drugs and Hyper-Foods, Demystify, and Cancer Research. With your contribution, the cure might be closer than you think.
Freerice is an UN-sponsored app with feeding the hungry in mind. This app gives, as the name suggests, free rice to those in need. How you might ask? Well through the United Nations World Food Program they use ads while you answer multiple-choice questions that help you learn about the world around you. "I think Freerice is such a great app, it helps me learn by answering questions about geography and world flags and stuff," says Jose Moctezuma. "Basically killing two birds with one stone," this app is just a great way to spend time and help people while relaxing.