Children and Screen Time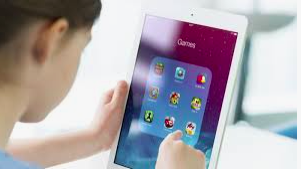 Most parents before having children tend to stand by the, "I'll never hand my baby a phone." However, when a child is screaming in a doctor's office because they are bored or tired a phone is a quick and easy way to console a child.
Some of my family and friends and even my own parents give screens to young children when they need them to be occupied for a certain amount of time. A lot of these people control the amount of time the children get on the screens and what they are exposed to. They give time limits and use parental controls to ensure their children are safe. My mother says, "When they are crying in public and I know it is because they are bored or sleepy a screen keeps them content enough for a short amount of time. Just so I can get them home."
My friend Kristen has six children and when she is out doing important things or doing work at home, she needs the children not to be all over her. Young children need lots of attention and tend to cling to their parent's attention. She likes to give her younger children iPads to keep them occupied and sometimes it can be educational for them. "I have educational apps and games for them to use so it isn't all bad."
Screens are an effective way of consoling, occupying, and sometimes educating children. It may be frowned upon by the parents who can devote all their time to their children or those who do not have children, but to seasoned mamas, it can be a lifesaver. It saves them time, energy, and gives them a break. It is not fair to judge parents for decisions that they have made for their children if it does not put them in harm's way. Every child is different. Some may want to color, or play, or read instead of playing on a screen. However, with the times that we are in many children are going to learn from a young age how to use technology. What do you think? Is giving a screen to a child an okay and effective parenting tool?