College Football Fan Nightmare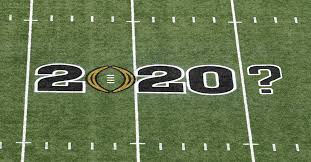 On August 16th, 2020 after the canceling of his season, Ohio State quarterback Justin Fields tweeted a link asking fans to sign a petition to reinstate the Big 10's season. Stating, "This cause is close to my heart – please sign." But Fields is not the only player with hopes of playing this season. On August 10th, 2020 with the hope for a season fading away, NCAA athletes Justin Fields, Trevor Lawrence, and several other college players spearheaded a movement petitioning officials each of them tweeting, "#WeWantToPlay." On August 11th, 2020 their hope was lost when the Big Ten announced the postponement of the 2020 season.
This all started on July 8th, 2020 when The Ivy League announced that they will be canceling fall sports for the 2020 season. On July 9th, 2020,1 day later, the Big Ten became the first FBS conference to have a conference only schedule for the season if they could hold a season. This was only the start of the nightmare college football fan would have to endure.
For the next few weeks conference after conference began announcing their intentions on having a conference only schedule. On July 29th the ACC became the first FBS team to announce their new schedule for the 2020 season. 2 days later the Pac-12 followed their lead by announcing their schedule for the upcoming season. The rest of the FBS began to slowly announce their schedules for the next few weeks. On August 5th, 2020 the nightmare for college football fans came into full fruition when UCONN became the first FBS program to cancel their season.
Fans were given a small amount of hope when the AAC announced that they would play up to 4 out of conference games along with their 8 in conference games. That hope was sadly swept away when both Division 2 and Division 3 canceled championships across all fall sports. Hope for the Big Ten season started to fade as rumors of a canceled season began to swirl. On August 11th, 2020 those rumors became true when The Big Ten announced the postponement of the 2020 season. About an hour later the Pac-12 also announced that their season would also be postponed. Since the canceling of 2 of the Power 5 seasons, there have been rumors of the Power 5 conferences breaking away and forming their own version of the NCAA.
As of the writing of this article, only the PAC-12 and Big 10 have canceled their seasons, and the Power 5 conferences are still in the NCAA.