Perry Chooses Berry

On February 7, 2020, James Perry (also known as J.P.), a Cass High football player locked in his decision to sign to Berry College.  Although JP had offers from Division I Teams, he chose Berry, which according to Berry College Head football coach Tony Kunczewski, they feel like they "stole one". JP chose Berry over his other options, "because [he] in love with the coaching staff and the players, just how welcoming they are, and the atmosphere of the campus. They have a great football program so that grabbed my attention too."
Perry has always been an important part of the Colonel football team playing both offensive and defensive positions; however, his senior season everything fell into the right place as he solidified his skill as a defensive end earning first-team all-Region 7-AAAAA honors. A DTN all-county selection, the defensive end racked up 58 tackles, including 13.5 for loss, to go with 5.5 sacks, three forced fumbles, and two fumble recoveries, and helped the Colonels have their most competitive season since 2015.
While Perry is excited about the upcoming football season, J.P. explains that he is excited about more than just that. "I'm looking forward to building new relationships with the team and staff, and I am also looking forward to experiencing the college environment."
"It's not very often you have a 4.0 kid who has his playing ability," Colonels head coach Bobby Hughes said, so it is no surprise that Perry is also keeping his eye on the future. "Besides football, I am very excited about the academic challenges I will encounter and the degree I will walk away with from Berry College." He plans on majoring in business management and to study pre-law.
Things haven't always been so easy for this Colonel student-athlete. In middle school, Perry's father passed away which is a hard situation for any teenager to navigate. "Once that happened, football was an escape," Perry said. "I was able to lean on my coaches and my teammates."
Perry also attributes is success in both the classroom and on the football field to his mother Geri Perry. "Even at a young age, she was tough on me, but I love her," he said. "I feel like she's prepared me for college and life, and its greatest hardships."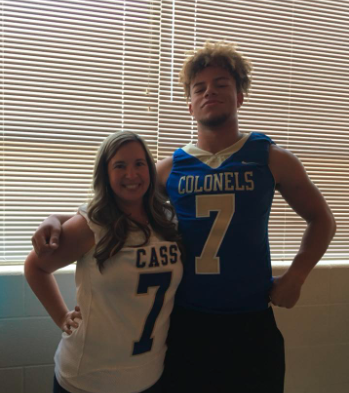 The Colonel family is excited to see what the future holds for this young man. "He's touched the lives of a bunch of different people in this building," Hughes said. "He's going to be missed on the football field, but he might be missed even more in the building."
Good Luck, JP Perry. Once a Colonel always a Colonel.