Another Half Time Show, Another Controversy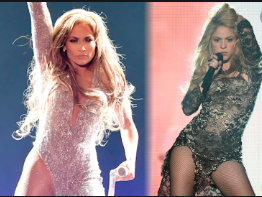 Kicking off the exciting Super Bowl 2020 were the San Francisco 49ers along with the Kansas City Chiefs. While many Superbowl fans were super hyped for this game and the lovable ads, others were more focused on seeing the halftime show performed by artists Jennifer Lopez and Shakira. From the music and dancing to the talented performers, the show was a huge combination of Latin culture. While many people loved the dancing, singing, outfits choices, and the whole performance in general, there were others who had more of a negative reaction to the maturity of the performance.
Some viewers felt that the performance was too sexual which made it uncomfortable for children to watch.  They felt the artists' dance and prop choices were "inappropriate" for children and overall not family-friendly. A staff member from National Review, Alexandra Desantics, suggests, "Parents shouldn't have to worry about their kids watching barely clothed dancers performing overtly sexualized dances when they're just trying to watch their favorite athletes."
While there were viewers who didn't approve of the level of maturity in the performance, there were still plenty of supporters of the performance and defended the show. An anonymous tweet suggested that people who hated the halftime show should "never take their kids to a Pop concert or to Miami. Nothing that happened at halftime was out of the ordinary for either. Learn to appreciate the culture and be a better parent and not judge others."
The opinions of viewers varied in more ways than one, but how did teens feel about the show? Students at Cass High School were asked about how they felt about the show,  a majority of them thought it was not that big of a deal.  One student stated, "It wasn't really the dancing and singing that was bad but the angles that some of the camera men shot at were a little uncomfortable as they seemed to focus directly on the performers' laps." Besides the occasional disagreement, students had no real issues with the Superbowl performance. Other students seemed to agree with the statement of camera angles, so would there be less of a concern if the cameras were shot at a different angle? Another question is, was the performance really that bad? Was it just the outfits that made some viewers feel uncomfortable? It's possible that viewers were more bothered about the camera angles as well? Maybe they're a little more conservative or just not used to Miami's performance style as quoted earlier by the anonymous Twitter user. While the show may have had some risqué moves and choices, its purpose was to put on a ground-shaking and Latin cultured show;  it was not intended to be the inappropriate performance that made parents want to shy their kids away or leave the room.