Doolittle Does the Most; Cass High's Star Student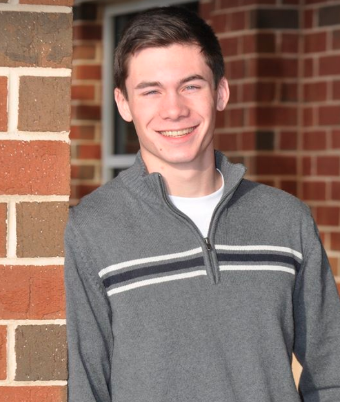 Good morning, Colonel family! Cass High's Class President of 2020 has also been named Cass High's STAR student.
The STAR student is the senior with the highest SAT score (of a single SAT test…no, combined test scores!) of his or her given school. Caleb's SAT score, 1380, puts him at the top of Cass High's SAT scores. As a result, he and the other STAR students from Woodland and Adairsville High will enjoy a luncheon along with several other members of the Bartow County Board of Education and staff members of the different schools.
"Finding out I was STAR student was just as surprising as it was unceremonious," he says. "I got a call from Ms. Cunningham to go to the front office and immediately was told, 'Hey, congratulations on STAR student! Who is your STAR teacher?' It took me a solid thirty seconds to be able to put a sentence together after that!"
As Caleb mentioned, each STAR student is given the opportunity to choose the teacher that impacted him or her the most within their years of schooling. Whether that teacher is your fifth grade English teacher or your senior math teacher, that teacher has affected you the most. For Caleb, that teacher was Sheila Smith, the former band director from South Central Middle School. "At first, I really struggled to choose just one teacher to be my STAR teacher," Caleb says. "Eventually, I decided to choose the teacher that made the most impact on me. Mrs. Smith was the first person outside of my family that made me believe that I could be more than I had previously thought. She taught me work ethic, to set high goals, and most importantly, to have confidence in myself." According to him, Mrs. Smith believed in him at a time when he didn't believe in himself. She taught him to have confidence in himself and not to view himself in a negative light. After she gave him the Director's Award, everything went uphill for him. She taught him valuable life lessons that helped shape him into the person he is today.  "I really owe almost all of my success to her and the life lessons she taught me," he says.
Upon calling her to break the news, Mrs. Smith began to cry.  Caleb states, "She said, 'I thought you forgot about me.' I said, 'Mrs. Smith, how could I forget about you?'" It is an uncommon occurrence for a STAR student to pick a middle school teacher as his or her STAR teacher, so Mrs. Smith was incredibly surprised.
Although this is a huge achievement, accomplishments do not come on their own. Caleb says, "I've had a lot of encouragement from friends, family, and teachers but most of my motivations have come from setting high standards for myself and holding myself accountable for those standards. If I got high grades one semester, I would push myself to hold them or improve them. The threat of getting into college also kept me on track." Ask any student with high grades, and they will tell you it does not come without hard work.
Caleb is an active member in a number of clubs (stated below), and an important thing to remember is being in clubs for school doesn't just show school spirit, but it also helps you branch out, meet new people and make long-lasting friendships while having fun. Caleb explained the importance of being involved in clubs throughout his high school career. "Being in clubs and sports has definitely helped me through my high school career. For example, band gave me the friends I needed to improve myself, set high goals, and keep myself on track."
Being a role model for underclassmen, he has this advice: "To all the underclassmen that are questioning joining clubs or sports, you have no idea how much you are missing." He goes on to say, "By just joining one sport, you will meet so many friends, many of which will push you to be the best you can be. You'll discover talents you never knew you had, and you'll make high school so, so much more than just a place to do work. The more you become involved, the more this school will become a second home, a place where you belong."
When asked if he had advice to give other students who plan on taking a standardized test for the first time (or to students who want to improve their scores), he said, "Taking the SAT and ACT is extremely important for everyone wishing to attend college. It is essential for most applications and some scholarships, so be sure to take it, preferably multiple times! From my experience with the tests, I would suggest taking it as early as you can. This way you can learn what subjects you need to work on and you won't be down to taking the tests a month before applications are due. Also, keep in mind that the tests are only a part of applications and only a tiny part of what you can do! As Albert Einstein once said, 'Everyone is a genius, but if you judge a fish by its ability to climb a tree, it will live its whole life believing that it is stupid.' The SAT and ACT don't define whether or not you are intelligent, a good student, or ready for college. It's what you do outside the test that matters most."
After high school, he plans on going to either Georgia Tech or Embry Riddle to pursue a major in engineering—more specifically mechanical or aerospace engineering. His SAT scores put him at average for Georgia Tech, but a 1380 is above average for Embry Riddle.
Caleb is no stranger to receiving accolades, as he is a member of the Marching Band,  the swim team, Interact Club, Science Club, Student Government, Chess Club, National Honor Society, National English Honor Society, and was named a 2019 AP Scholar. However, this is an accomplishment that he believes he will carry with him. This accomplishment will certainly help me with many of my future endeavors," he states. "Most directly, this award will be a testament of hard work and will be a highlight of a young resume. Less directly, this award has proven to me that hard work does not go unnoticed and will definitely provide me motivation to keep doing my absolute best, no matter who I think is watching."
Our Colonel family is proudly represented by Caleb Doolittle, our energetic STAR Student. We all congratulate you!