Homecoming King and Queen Revealed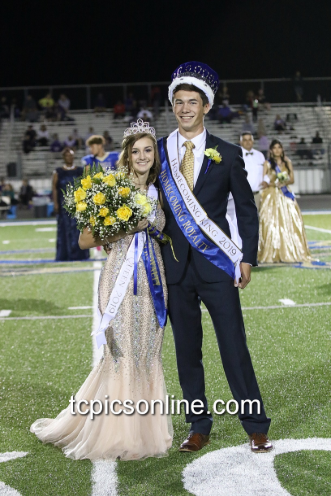 At the Hiram vs. Cass football game on October 11, 2019, the 2019-2020 Cass High Homecoming King and Queen were announced.
The seniors on the homecoming court were Atisham Ajmal, Johnny Bootz, Tajh Dawson, Caleb Doolittle, Cameran Hill, James (JP) Perry, Bailey Eanes, Hollie Green, Neleh McGivern, Sophie McIntyre, Isabelle Prater, and Katie Quinonez. The juniors were Mattie Blum, Madison Shook, and Naomi Sigala. The sophomores were Abbey Bunch, Kelly Young, Bailey Elrod. The freshmen were Ibania Quinonez, Abby Roach, and Chanya Sutton.
During halftime, the students on Homecoming Court were all announced individually before lining up on the field. Each student was escorted by a parent, and the pair walked together to their spot on the field before waiting. His or her name was announced, followed by clubs, hobbies, college of choice, and career choice (if a senior). When all the students were called, Rett Moore and Cassy Simmons, the 2018-2019 Homecoming King and Queen, presented the title to this year's students.
This year, the Homecoming King is Caleb Doolittle, and the Homecoming Queen is Sophie McIntyre.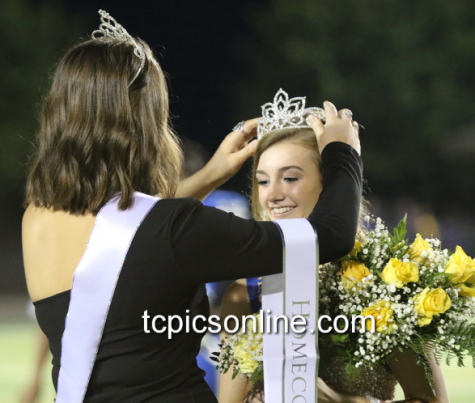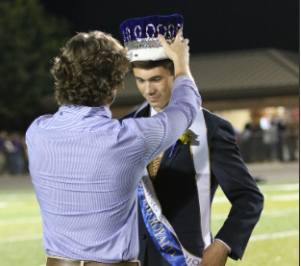 Upon discovering the news, the two students were elated. As Moore and Simmons awarded them their crowns and sashes, their smiles were contagious. McIntyre says, "I felt very shocked and excited! Being Homecoming Queen is a dream come true, and to me, it means setting an example inside and outside of the classroom for the other students. I'm glad to know that I made an impact on people to vote for me to be Homecoming Queen."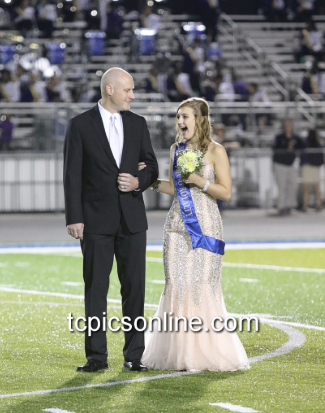 They received an outrageous amount of applause as the audience couldn't be more pleased with the outcome. Audrey Donoho, a senior, says, "I am very happy that Caleb and Sophie won. They are both so sweet, and the successes they both have had—with Caleb being Class President, doing announcements with Atisham [Ajmal], and now homecoming king, and with Sophie on the court all four years and being a dedicated football cheerleader—have made them so deserving of their titles."
After halftime, McIntyre was congratulated by several people—other cheerleaders and the student section alike. She states, "There were a lot of people congratulating me after the game. A lot of people wanted pictures with me, and everyone made me feel so [over]joyed about winning."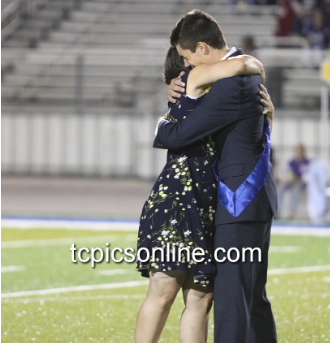 Caleb Doolittle's win is especially significant, as for the first time in several years, the king is also a band member. In previous years, the Homecoming King is a football player, so this was extraordinary. Yet in the grand scheme of things, it gave him a chance to reveal his humility. "After the game, we made our way back into the band room as we always do," Doolittle states, "However, tonight, I wanted to give back something to them too. I called everyone to 'attention' and told them all that this wasn't 'my' victory. This wasn't a test of my own individual skill or efforts—heck, I didn't even vote for myself. This was their victory. Without the band, I would never have made friends in high school, I never would have pushed to be the person I am today, and I certainly would never have won the crown. I thanked them again, for everything they have done and once again and handed down the crown to Zael Hurtado, telling everyone to wear it for a bit, take pictures with it, and pass it around. After all, this was their victory, not just mine."
This year's homecoming was full of suspense and nail-biting tension, but the students were grateful for the opportunity. Doolittle says, "I see it as more of a responsibility. You are the student-elected face of Cass High School. […] With that, I try to use that responsibility for the better, I try to live my life in the best way that I can so that others might follow suit. Do I expect to change many people's lives? No, but if I even just help one person become the best they can be with the title, well, I think I will have done my job well." These two students are proud of themselves, and the rest of the Cass family is excited for them too. Congratulations, Sophie McIntyre and Caleb Doolittle!