Pruitt Receives a Major* Award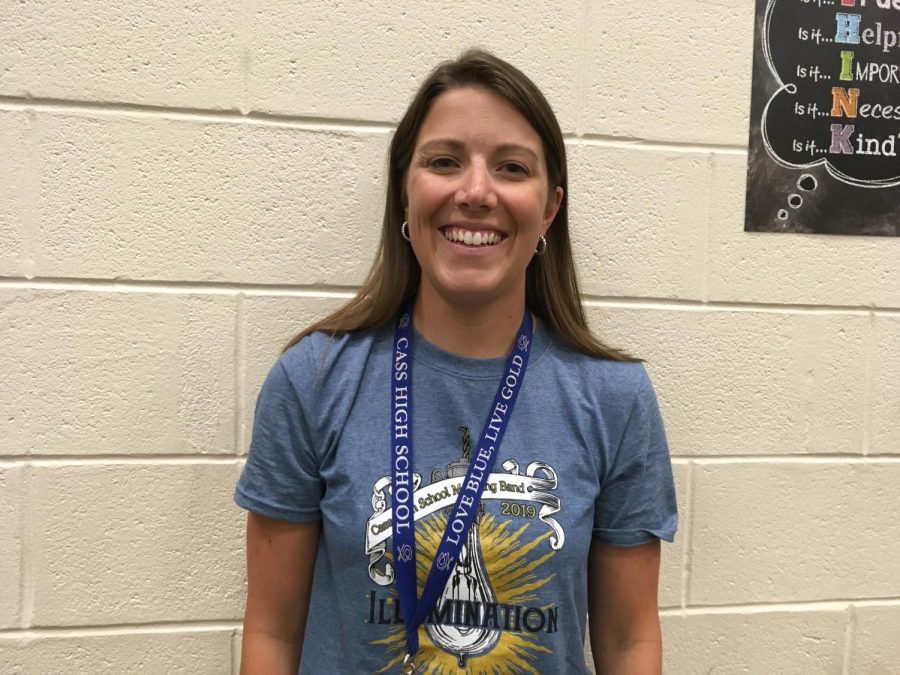 When it comes to school spirit, dedication, motivation, and passion, not everyone can fit the bill. However, there is one teacher that is always behind the scenes, making sure her students look, act, and sound flawless through endless amounts of time and energy. After several years of service to Cass High, it appears her efforts have finally paid off.
During the pep rally on September 6, 2019, Megan Pruitt was awarded Teacher of the Year, a significant accomplishment that many teachers strive to reach. The whole school was present for the bestowal of the award, as were Mrs. Pruitt's husband and daughter.
When she first discovered the news, she didn't expect to hear her name being called. "[I was] shocked," she stated. "And surprised. And my heart was beating a million miles a minute. But [I am] very grateful and honored and blessed to be a teacher here and that people recognize that the band is doing great things."
Mrs. Pruitt is the band director at Cass High and oversees preparations, lessons, parades, competitions, and concerts during both marching band and concert band season. She is known to push her students to do their best at every halftime show and concert, as well as provide them plenty of opportunities to spread their wings as young musicians. She always wants the best for all her adopted children. Victor Rendon, a junior and an assistant drum major, states, "Spending most of your time every day with around one hundred twenty students can be very difficult. Yet, she makes it feel like a second home. I can say she truly does care about her students in every aspect of their lives. Every time we get a report card, she's the first to check it and see how we're doing in our classes. Every Friday before the football game, she checks our grades, and if it's not a C or above, she puts us in her jail, which I know sounds scary, but it's supposed to be encouraging to help you improve your grade so you don't miss out on your break and having fun. I know for a fact that everyone can count on her if there is a situation going on. Her office door is always open, and you can always talk to her about it, whether it be financial, personal, or just silly high school drama. She's willing to help. All she wants is to see us succeed and grow in life. She's always telling us 'pretend I'm always on your shoulder saying, "What would Mrs. Pruitt think?"'"
Both teachers and students alike are thrilled that Mrs. Pruitt received this title.  Many people know that her dedication to her students, her work, and her passion are beyond comparison, and they believe she was a great fit to receive this achievement. One of her students, Amaya Smith, a senior and a tuba player, says, "Mrs. Pruitt deserves Teacher of the Year because of her nonstop dedication to the band and endless hours of hard work. Through thick and thin, Mrs. Pruitt has been there for the band, no matter the circumstances." Anthony Stevenson, a clarinet-turned-low brass member, agrees. He states, "She spends countless hours at school with all her students all year long, learning our personalities so that she understands how to properly teach us."
Being Teacher of the Year is a significant accomplishment, and this select teacher gives a speech at Baccalaureate. He or she then moves on to fill out paperwork, write essays, and be judged by higher-ups in order to become the Teacher of the Year for the County. This award means a lot to the receiving teacher, and Mrs. Pruitt is incredibly grateful for the recognition. She states, "I think, to me, being Teacher of the Year, represents a passion for teaching and a love for teaching. I come here every day not because it's a job but because I love what I do and I love teaching teenagers, and so for me, Teacher of the Year is an honor in that it shows that I have a passion and a love for what I do."
After everything she has done for the school and her students, it seems to be worth all the treble.
*"Major" is a reference to "major scale."