Events Coming Up This Spring!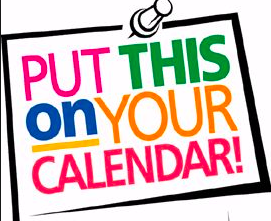 Hang on for a minute...we're trying to find some more stories you might like.
Spring is coming up, the air is a little warmer, and the grass is a little greener. In Bartow County, lots of events will be going on this March and April, so be sure to participate this spring!
The new Booth Western Art Museum Exhibit was just constructed this month, but don't worry, it'll be available throughout the rest of the year. The exhibit is titled "Commanders in Chief- A Living Art Exhibit" which is composed of paintings by Ross Rossin, which are still in the process of completion, but still a beautiful work in progress.
Celebrate St. Patrick's Day! Many local restaurants are participating in an all you can eat and drink event! Table 20, Mellow Mushroom, The City Cellar and Loft, Maine Street Coastal Cuisine, Jefferson's, Old Havana Cigar, and The Local Bar and Grill are going to be open this Friday 5 to midnight and Saturday noon to 11:30, tickets are only $35.
Etowah Mud Swap: The Disc Golf tournament will be held this Saturday at Riverside Park. Come out to watch the PDGA best doubles, right here in Cartersville.
Cookin' on the Creek: " Gunn's & Roses presents Cookin' on the Creek to benefit The Hope Center Foundation. See more than 25 of the south's top competition pro BBQ teams and local backyard competitors. Enjoy live entertainment from The Old Mill Road Band and other local performers, grill demonstrations and unlimited BBQ sampling from Noon-3 PM (while supplies last). Bring a chair, enjoy great food, live music and visit with the cook teams. Parking and event shuttle service will be available at The Hope Center, 100 Market Place Blvd. Cartersville (across from Walmart). Adults – $10 donation, Children ages 5-12 – $5 donation."
Solar Sky Watch: Come by Tellus Science Museum to see the sun through special lenses in their observatory. Tellus staff will show you sunspots and loops of Hydrogen that extend from the Sun. This event is free to Tellus members and included in the regular admission ticket.
St. Patricks Day on the Square: Visit Adairsville's Historic Downtown Square for a St. Patrick's Day Celebration with live music from the TJ Cochran Band of Rome GA. Enjoy a Cornhole Tournament ($20 per team) and a Leprechaun Costume Contest.
Georgia Junkies 41 Spring Vendor Market: March 22-24 "If you are addicted to rusty, retro, and funky junk then this new event is for you. Georgia Junkies 41 Spring Vendor Market will feature purveyors of vintage, antique, unique, funky, handmade, remade or otherwise made junky goodness for vintage-lovin', weekend junkin', crafty fixer uppers like you!" georgiajunkies41.com
Friday – VIP and EARLY BIRDS – 5:00-8:00 PM
Saturday Open to the Public 10 AM-6 PM
Sunday Open to the Public 10 AM-6 PM
Northwest Georgia's Women Expo: Something for Every Woman! Health, Beauty, Fashion, Finance, Fitness, Food and Lifestyle. Men are welcome, too! Plus enjoy shopping handcrafted items from the Artisan's Market. This event is March 23rd at the Clarence Brown Conference Center from 9 to 4, and tickets are $5!
Show for Hope: Come see some beautiful cars at the Hope Center March 30th from 10 to 2! Proceeds will benefit the Hope Center in Cartersville.
BBQ and Brews: On April 6th in downtown Cartersville, Georgia Barbecue Association-sanctioned cook-off as Professional Pitmasters and those simply Cooking for Fun compete for cash prizes, trophies, and bragging rights. The festival opens Saturday from Noon-8 PM with food, retail vendors, and live music.
Pettit Preserve Hike and Program April 13th: Bryan Hudson, a herpetologist who co-founded Project Pine Snake, will discuss the harmless but increasingly elusive northern pine snake, sometimes known as a "bull snake" because of its ability to blow or hiss loudly. Presentations will be held at 10:30 and 11:30 AM. The Preserve will be open 10 AM-5 PM for hiking on your own. Admission is $3 per person or a maximum of $10 per family, and free to Preserve members. Visitors may hike on three trails that range in length from an easy .25 mile stroll to a 1.7-mile loop around the lake. Leashed dogs are welcome, but the trails do not accommodate strollers. The last hike departs at 4 PM.