Should Jayme Closs Get the Reward for Saving Herself?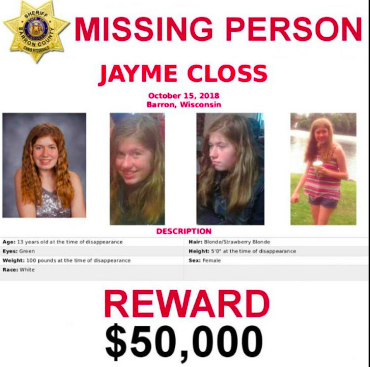 Hang on for a minute...we're trying to find some more stories you might like.
People across the country were moved into action, panic, and worry on October 15th, 2018. Word spread quickly of a tragic incident that took place in the small county of Barron, Wisconsin involving a family of three. The story goes like this. A man, unidentified at the time, broke into the home of the Closs': James (56), Denise (46), and Jayme (13). With nothing but a shotgun, he proceeded to murder James and Denise with the intent to kidnap their daughter. He succeeded in these horrifying acts before driving to his home miles away, passing cop cars responding to a call that came from Denise's phone moments before her death. He yielded to the first responders as they drove by unaware of Jayme locked in the trunk.
After months of searching, viral social media posts about the missing girl, and thousands of tips leading to dead-ends, there was finally a break in the case that gave all of the answers the nation and the family of the Closs' had been looking for. On January 10th, 2019, news spread that Jayme Closs had not only been found by police but that she had rescued herself. After her kidnapper, now identified as James Patterson, left for a few hours, she snuck out from beneath the bed he had trapped her under with weights and ran out into the streets for help. The first person she came across after 88 days of captivity was Jeanne Nutter, a neighbor to Patterson who was out walking her dog. The pair then headed to the home of the Kasinskas, nearby neighbors, who dialed 911.
The first words the operator heard, which would turn out to be the first valid tip that investigators received, were spoken by Mrs. Kristin Kasinskas: "Hi, I have a young lady at my house right now and she says her name is Jayme Closs."
James Patterson is now in police custody and facing charges that will likely end with the rest of his life being spent behind bars. However, in the aftermath of Jayme's abduction, questions have begun to rise about reward money. Due to the desperation for answers, a reward for up to 50,000 dollars was offered for any information that could lead to the girl's location: 25,000 dollars from the FBI and 25,000 dollars from the old employers of the Closs parents. The question is, should Jayme Closs receive the 50,000 considering she saved herself and was responsible for her own discovery? Not only does the majority of the media believe she is deserving of said reward but so do the people who notified police. The Kasinskas themselves have spoken out and stated that, although they have not yet been contacted about the reward money, they believe that it should be given to Closs "because she got herself out" (Kasinskas).
It seems many of the people and news outlets who have kept an eye on this case throughout its development feel very strongly towards the answer being an absolute yes. It would be highly difficult to find a single individual who thought that Jayme Closs was undeserving of the reward after the trauma, loss, and violence she has experienced over the last few months. Will this reward money be given to the 13 year old girl to assist either her aunt with the new challenge of aiding her or whatever is best fit to better her situation? If not, would people online be willing to set up fundraisers of their own volition in support of the girl, as has been done with similar situations in the past?
Regardless of the answers to those questions, there is nothing but love and admiration that can be said of the young girl for her bravery, strength, and resilience in the face of one of the most horrific things that can happen to a person. Now residing with her aforementioned aunt, Jennifer Smith, Ms. Closs is in the recovery period and has been seen pictured smiling next to her aunt just days after her release. Robert Naiberg, Closs' grandfather, spoke about her state in the media, "Jennifer is bringing her out of her shell slowly."
This story is one that picked up attention due to- not only its tragedy but- its show of utmost determination. A middle-schooler, life turned upside down, threw the world by surprise by withstanding and escaping from a cold-blooded killer. It is hoped that with the proper care and nurturing she can begin to shift back into being a kid. Let us also hope that this process will be made easier financially with the reward money that Jayme Closs has more than earned.