Do You Hear What I Hear?
Hang on for a minute...we're trying to find some more stories you might like.
On Tuesday, December 11th, 2018, the Cass High Band hosted their annual Christmas concert. This event is one of the two concerts that the band puts on yearly.
The concert is divided into four sections: the percussion ensemble, concert band, symphonic band, and full band.
The percussion ensemble played "The Wexford Carol" arranged by Chris Brooks and Kevin Madill. The concert band played "Three Kentucky Sketches" by John O'Reilly, "Romanesque" by James Swearingen, "Denbridge Way" by James Swearingen, "Ukrainian Bell Carol" arranged by James D. Ployhar, and "Let It Snow! Let It Snow! Let It Snow!" by Sammy Cahn and Julie Styne. The symphonic band played "Australian Up—Country Time" by Percy Aldridge Grainger and arranged by Glenn Cliffe Bainum; "Lux Aurumque" by Eric Whitacre; "Prelude, Siciliano, and Rondo" by Malcolm Arnold and arranged by John P. Paynter; "Greensleeves" arranged by Alfred Reed; and "A Christmas Festival" by Leroy Anderson. The full band played "The Nutcracker" by Peter Ilyich Tchaikovsky and arranged by James Swearingen, "The Thirteen Days of Christmas" by Paul Jennings, and "Sleigh Ride" by Leroy Anderson. Caleb Doolittle, a junior and trumpet player, as well as vice president and inspirational leader, says, "My favorite piece was 'Prelude, Siciliano, and Rondo.'"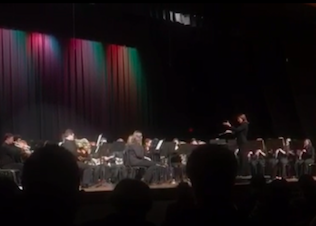 Destiny Wilkey, a senior, a mellophone player, and the mellophone section leader, believes this concert is important compared to other events that the band hosts. Wilkey states, "I don't think the audience realizes that we have been playing this music since August, trying to prepare for this moment that only lasts about an hour and thirty minutes for their entertainment […]. I think it's important to us that our music is well-prepared because of the five months of dedication and hard work that went into making sure it was played to our best abilities. Although our other band events take the same amount of dedication, our Christmas concert allows our audience to actually sit down and listen to holiday music and appreciate the feelings that Christmas brings."
As the semester winds down, Mrs. Megan Pruitt, the band director, pushes the band harder and harder as they begin to prepare for Large Group Performance Evaluation, or LGPE. She and many other students view this Christmas concert as a way to determine what the band needs to work on. Amaya Smith, a junior and tuba player, states, "I believe that the band as a whole would need to work on our maturity in sound. We're prepping for LGPE, and this concert was a great way to see where our maturity is to see if we can play straight grade six at LGPE. Grade six is an extremely hard literature composition, and [it] takes the top of the top to play."
The band put in a lot of time, effort, and hard work into making sure their concert was perfect, and the audience all agrees—it was.