GA Governor Election
Hang on for a minute...we're trying to find some more stories you might like.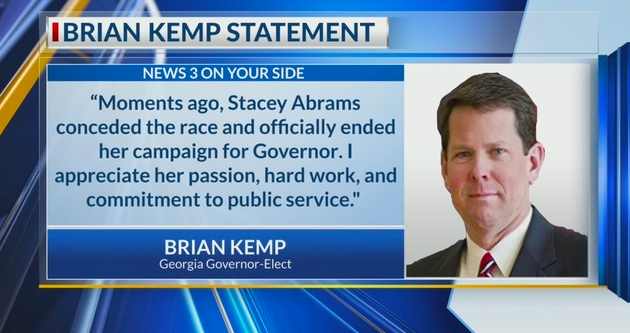 However, as of Wednesday, November 6, 2018, people of all ages 18 and over flooded to voting centers all across the United States to place their votes in the midterm elections. For Georgia, two people battled neck-in-neck – and continue to contest each other even now — for one position in particular: governor. Stacey Abrams (representative for the Democratic party) and Brian Kemp (representative for the Republican party) kept voters holding their breath as their vote-counting continued late into the night. With the current standing of 50.3% for Kemp and 48.7% for Abrams, the results are still not final. After such a close running, Abrams has asked for the votes to be recounted, and all absentee votes are still being collected. Amanda Arnold, a writer for The Cut, notes, "…over the past 36 hours, she's been closing the gap. Under Georgia law, if no candidate gets a majority of the vote, the two top candidates must advance to a runoff election."
Additionally, controversy has surrounded the possibility of voter suppression due to Brian Kemp's control of the polls. As prior Secretary of State, he held the office which oversees the election during his campaign – a clear conflict of interests. German Lopez, writer of the Vox, reports, "Kemp's office also put 53,000 voter registrations on hold, nearly 70 percent of which are for black voters, by using an error-prone "exact match" system, which stops voter registrations if there are any discrepancies, down to dropped hyphens, with other government records." Although he denies accusations, many believe his actions were intentional in denying votes to Abram's most popular voting demographic. Along with the technical difficulties and voting lines, issues with submitting the voice of those doing their civic duty popped up all throughout Georgia. Thus, the push by Abrams for recounts and the delay of a final result is understandable.
If Kemp's percentage dips below 50% before the cut-off – 5:30 p.m. on November 9th –, a run-off will be held on December 4th; otherwise, he will proceed as the winner of the 2018 election for Georgia Governor. Stacey Abrams, if she wins, will be "the country's first black female governor" (The Washington Post).